Wait, Zynga Paid How Much to Acquire Words With Friends?
Zynga has dominated the Facebook gaming market, but it's also working to smartly position itself as users adopt mobile gaming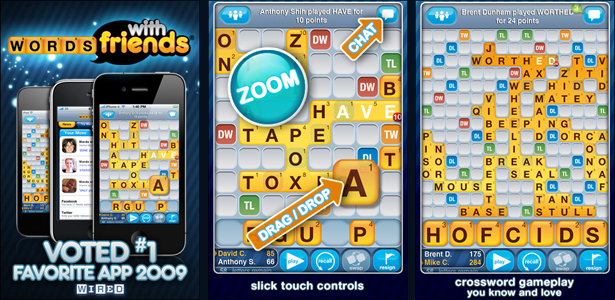 Zynga, which recently filed papers with the Securities and Exchange Commission for an IPO that could value the company at somewhere between $10 billion and $20 billion, has a strong grasp on the Facebook gaming market. But it wants -- it needs -- to expand beyond that, which is a point that many have made, both before and since the S-1 was completed. (TechCrunch's Jason Kincaid pointed out that the word 'Facebook' appears in Zynga's SEC documents no less than 204 times.)
It's obvious that Zynga's team has been eyeing the fast-growing mobile games market for some time. Zynga now controls more than 10 games in that space, due, in large part, to the acquisition of more than half a dozen companies over 2010. The most high-profile of those purchased was Newtoy, Inc., the developer responsible for Words With Friends.
At the time of the acquisition, Zynga refused to release the financial details. We had no idea how much the social games developer had decided Words With Friends -- and its parent company, which has also released a popular Chess game -- was worth. But now, thanks to the S-1 filing, we do.
Zynga paid $44.3 million in cash and another $8.9 million in stock (1.4 million fully vested shares of Series Z convertible preferred) for Newtoy. And here's how they justified the price: Nearly $18.5 million for developed technology, more than $40 million in 'goodwill' and just over $6 million for trademarks. The difference is made up by net assets acquired, comprised primarily of deferred tax liabilities.
More than $40 million in goodwill. That's a lot of goodwill. But Newtoy can play a large role at Zynga continues its forward march. "As mobile games become more social and can display better graphics," Venture Beat's Dean Takahashi wrote, "the category is expected to see explosive growth, perhaps even becoming bigger than Facebook gaming at some point." Zynga clearly believes that will be the case and is making investments it sees as necessary to best position itself going into that explosion. Besides, Zynga's top executive has seen how powerful the draw of a Newtoy game can be.
"At Zynga, we feel a personal connection to our games through our friends and family," founder and CEO Mark Pincus wrote to potential shareholders in an introduction to the SEC filing. "I love that my brother-in-law, who has five kids and no free time, religiously plays our game Words with Friends."
Image: Words With Friends.