The Glorious Tale of Mr. Lessmore and the Future of Kids' E-Books
A new iPad app pulls together elements of animation, storytelling, and interactive play for a wild reading experience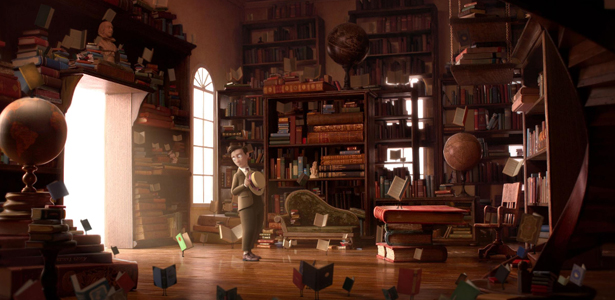 From the moment you open Moonbot Studios' The Fantastic Flying Books of Mr. Morris Lessmore, it will be clear you are looking at something very special, something not just slapped together to push a short film of the same name but a product of a thoughtful, creative team of people dreaming big about the possibilities for children's literature in the age of the tablet.
On each "page" of the story, readers can play with the interactive animation to a variety of effects. Swirl your finger around in a storm and change the way the wind blows. Linger over some eager books to hear famous lines from their contents. All tricks are not equally engaging, but the better ones are small wonders. (Pro tip: were I to look at this with a child, I would turn the narration off and do the reading personally. You can do so while leaving in place the evocative background music.)
The tale is about one Morris Lessmore, who gets swept away in a storm and winds up in an "extraordinary building" where books live. There, Morris befriends the books, takes care of them, and even writes his own, a story of all "his joys and sorrows, all that he knew and everything that he hoped."
Thus, curiously, this very digital experience is, at heart, an homage to paper-and-glue books. Perhaps a clue to the creators' apparent ambivalence about a new age of children's books lies in the name of the main character, Morris Lessmore. More can be less, they suggest, but sometimes it can also be more.
Image: Moonbot Studios; Via John Pavlus at FastCoDesign.