Picture of the Day: Sunrise Over the Moon's Tycho Crater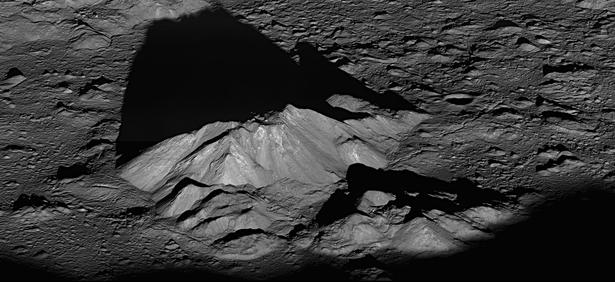 Captured on June 10, 2011, by NASA's Lunar Reconnaissance Orbiter, this photograph shows Tycho, a prominent impact crater on the moon's southern highlands, as the sun rises in the distance. "A very popular target with amateur astronomers, Tycho is ... about 51 miles in diameter," according to NASA. "The summit of the central peak is 1.24 miles above the crater floor. The distance from Tycho's floor to its rim is abut 2.92 miles." The central peak complex shown in this photo measures more than nine miles wide (from left to right).
Named for the Danish astronomer Tycho Brahe, Tycho is pockmarked with smaller secondary craters that have formed over its 108 million years. Tycho is one of the moon's most famous craters largely because, despite its age, the edges are sharply defined unlike those of older craters that have been worn down by subsequent impacts.
View more Pictures of the Day.
Image: NASA.