Picture of the Day: Our Food, Seen Through an 85x Microscope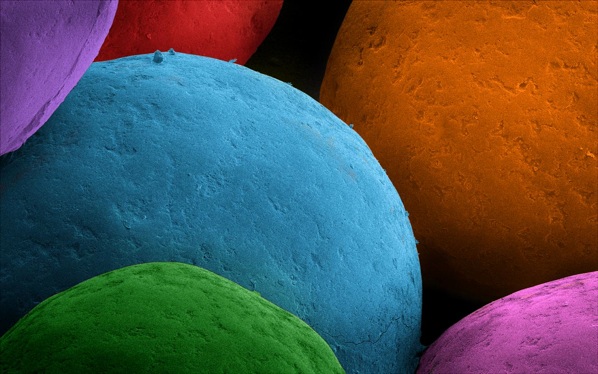 "What's in our food?" Caren Alpert asks in her artist statement. "What's the difference between a bird's-eye view of a remote vegetable crop and a microscopic swath from a pineapple leaf? How distinct is a pile of table salt from miles and miles of icebergs?" With her gorgeous microscope-based photographs, Alpert attempts to show us the difference -- if there is one. Embedded above, find one of Alpert's images, this one showing multi-colored cake sprinkles at 85x magnification.
"The genesis of this project started when I was probably too young to even realize it," Alpert explains on her official website. "As a child, my parents subscribed to 3-2-1 Contact magazine for my sister and me. I was always fascinated with the backpage quiz. It was a tiling of approximately 9 photographs: 3 across/3 down, and all abstractions/details of some commonplace object that we, as kids, generally overlooked. I recall it so clearly: bicycle spokes, bubbles in soda pop, the treads on the bottom of a tennis shoe, etc. The reader had to guess what the photo was. This kept me entertained the whole month, until the next issue came in the mail."
Now, she no longer has to wait for more abstractions and details; Alpert can make her own.
View more Pictures of the Day.
Image: Caren Alpert Fine Art; Via BoingBoing.