Picture of the Day: Mars, Home of Incredibly Severe Snowstorms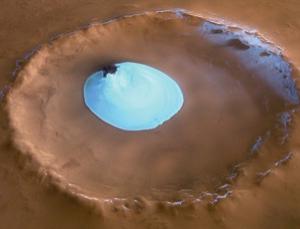 Over the past couple of years, we've seen some fairly intense snowstorms envelop the East Coast, but even the most violent that Mother Nature has thrown at us could pale in comparison to those on Mars in the past, according to new research.
The Red Planet has been mostly dry and cold for the last three billion-plus years -- and astronomers have never observed rain or snow there -- but evidence suggests that lakes have formed for brief periods of time. "Lakes may form when meteorite impacts heat ice in the crust or when underground reservoirs of water kept liquid by geothermal heat leak onto the surface," New Scientist reported.
Curious about how the presence of those lakes might affect the planet's weather patterns, Edwin Kite of the University of California, Berkeley, used weather-prediction software to create models using Mars' present-day conditions. Heat given off by the lake would stir the planet's thin atmosphere, Kite and his colleagues found. This heat would cause warm, moist air to shoot skyward and condense into ice, forming an enormous storm cloud. Because Mars is without an ozone layer to heat the upper atmosphere, this storm cloud would rise higher and faster and grow larger than anything we've studied here on Earth.
"Imagine being in the most severe thunderstorm you've been in, where it's really dark and ominous-looking," is how team member Scot Rafkin described the snowstorm that these clouds would produce. "Then make it darker and more ominous, with snow coming down at an unbelievable blizzard-like rate." The snow would pile up until Mars tilted -- a regular process thought to be triggered by gravitational pulls from Jupiter -- burying everything under the cloud.
View more Pictures of the Day.
Image: ESA/DRL/FU Berlin.