Larry Page's First 100 Days as Google CEO: Focus, Focus, Focus
Larry Page has demonstrated he wants to create a more streamlined, more potent Google, and he's doubling down on search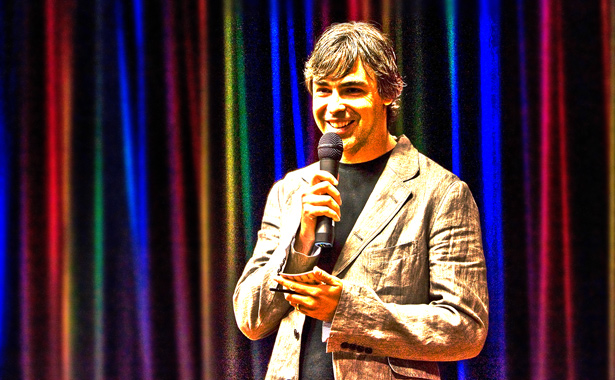 When a new President is sworn into the Oval Office, we like to take stock of what directions the country's new leader wants to go at the arbitrary, nice, round time period of 100 days. We'd like to give Larry Page, Google's co-founder and new CEO, the same treatment. Earlier this week, he delivered his first earnings report since his April 4 ascension to the G-throne. The company grew revenue 32 percent year over year to $9 billion for the quarter. Wall Street cheered the $2.6 billion in cash flow that the company generated in just April, May, and June.
What's really been impressive to us, though, about Page's short tenure is the focus that he's brought to Google's multifarious offerings. Page is doubling down on the company's core search engine, Android, the mobile operating system, and Google Plus, the social network offering that helps unite the company's popular online products like Chrome, Picasa, and Gmail. And he's hacking away at the many, many, many little projects that Google engineers created over the past years like so many clippings from a spider plant.
Wednesday, the company announced that Google Labs will die like Google Health, Google PowerMeter, real-time Twitter search, and 11 APIs before it. There are probably more changes to come, if his public statements are any indication.
"Greater focus has also been another big feature for me this quarter, more wood behind fewer arrows... We've also done substantial internal work simplifying and streamlining our product line," he told investors this week. "While much of that work has not yet become visible externally, I'm very happy with our progress here. Focus and prioritization are crucial given our amazing opportunities."
Looking at Google as a company, Page's plans make a lot of sense. For the past few years, they've been building out their core search business in countries outside the United States. That's incredibly important to the company's bottom line as international revenue now outstrips U.S. revenue.
But it's clear that the company can only grow by expanding geographically for so long. While overall year over year growth was solid, quarter over quarter growth was down to 5 percent. That's better than contraction but it's a far cry from the massive gains Google's seen in the past. Google needs some new things to succeed outside of its core desktop search ad business.
And that's where Page's new initiatives come in. In one of the most exciting Google events in a while, the company's head of search announced a variety of initiatives to push Google Search beyond Search. They're talking advanced voice search across all platforms, and of course, the inclusion of social signals from +1ing across the Web.
Mobile search is exploding right now, too, and Google's Android operating system is now being activated on 500,000 phones a day. That gives them a serious foothold in the combined mobile browser/OS wars, which could have all kinds of knock-on effects for the company's future offerings for phones.
Then, of course, we have Google+, which we have covered exhaustively here on the blog because it's more important than your average social network launch. G+ is an attempt to tie together your searching and social behavior on both the mobile and desktop. At the same time, G+ is becoming the skeleton on which a lot of other Google products will hang. Think of it as the nexus for Google's disparate products and your disparate online behaviors. That's a big play and one that may even work. If it does, Google will have created a better product for you, the user, and for their real customers, advertisers, too.
For sure, there are still things the search giant could clarify a bit. For example, where the hell is the Chromebook going? And how about all those other search products like Google Books and Google News? Are they part of the plan or will they be put out to pasture like Google Health?
But you know, it's only been 100 days (OK, 108 to be exact) and already it's clear Page has a vision of a more streamlined, more potent Google.
Image: Kimberly White/Reuters. Heavily edited.