iTunes, Amazon Music Profit From Amy Winehouse's Death
The online retailers were quick to post what looked like obituaries on their digital pages, but they only allowed visitors to buy music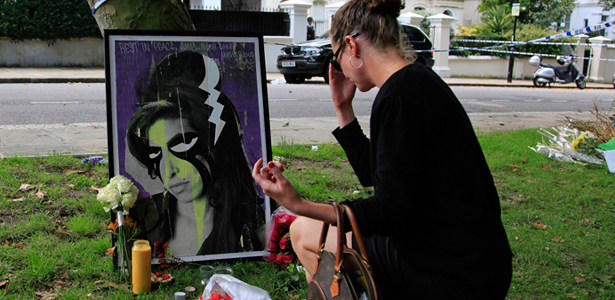 As quickly as Sasha Frere-Jones could nominate an heir to Amy Winehouse's artistic legacy (Adele), iTunes posted a large image of the late pop singer on the homepage of its digital music store with the caption, "Remembering Amy Winehouse." Similarly, but less conspicuously, Amazon Music has added a box on the right-hand side of its page that reads, in part, "Platinum selling and five time Grammy winning singer Amy Winehouse has died at the age of 27. Well known for her soulful voice, Winehouse's numerous hits include 'Stronger Than Me,' 'Love is a Losing Game,' and 'Rehab.'" Below Amazon's brief obituary is a link encouraging visitors to "Read more about Amy Winehouse."
But clicking the Amazon link or the iTunes image does not direct shoppers to the Guardian's tribute or to Rolling Stone's aggregation of musicians' responses to Winehouse's premature and unexpected death. Instead, one click takes shoppers to a page where they can purchase her music. Are iTunes and Amazon cashing in on an artist's death? Absolutely. Some commentators have estimated that Apple profits to the tune of twelve cents per ninety-nine-cent song. But iTunes, the world's largest music retailer, is also instantly connecting Winehouse fans to her music at a time when it is perhaps most emotionally poignant to listen. Indeed, beyond efficiency, there is little difference between buying an Amy Winehouse album on iTunes today and buying a Nirvana album at Tower Records in April 1994. (Did Tower Records plaster its windows with "Remembering Kurt Cobain" signs? Maybe not.)
Two years ago, on The Atlantic, Hua Hsu wrote that Michael Jackson's "distance made him an enigma." The same can surely be said of Winehouse, who, while belting out deeply personal lyrics, often seemed to be spiraling further into stupefaction. Like the late King of Pop, there is "a prominent, persistent loneliness" in Amy Winehouse's music. Drawing a further parallel with Michael Jackson, a Winehouse album, Back to Black (2006), is, on the day after her death, the most popular album on iTunes. If Winehouse's lyrics and struggle with addiction made her a distant enigma during her lifetime, she can only remain so after her death. But the ease with which online music retailers allow us to continue to enjoy her music can only help bring her closer.
Image: Stefan Wermuth/Reuters.