Introducing the New Technology of the Shower to Women
Ephemera Studies is an occasional series drawn from Saul Zalesch's tightly curated collection of rare documents at Louisiana Tech University. This booklet reminds us that the shower was once a novel thing.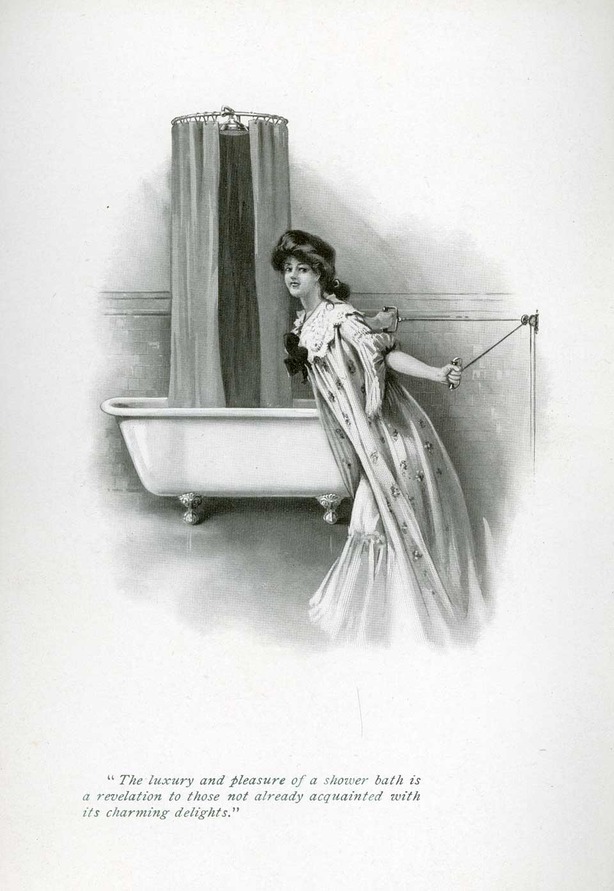 This neat image sums up advertising that tried to introduce women to the luxury and pleasures of showers, rather than traditional baths. It also suggests that women were encouraged to take light exercise as part of their toilette. Other full-page drawings show women taking showers, hiding behind the curtain, and small vignettes show active women playing tennis and golf, and riding horses. There are good full-page drawings of the mechanism and overall bath tub.
This booklet, which I believe dates to between 1900 and 1909 is entitled For Beauty's Sake and was issued by the Standard Sanitary Manufacturing Co. It opens with an oval portrait of a Restoration beauty and the quote: "Woman perfected Earth's Fairest Flower."