Google Shows Off HTML5 Canvas With Alexander Calder Doodle
On what would have been the sculptor's 113th birthday, Google has rolled out a mobile Doodle that moves and sways with your mouse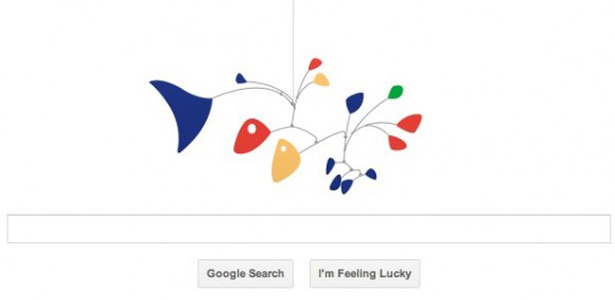 The Google Doodle team has really been pushing itself lately. We've seen the Les Paul Doodle, which allowed visitors to play and record their own basic tracks; the dancing Martha Graham Doodle; and an animated, zoomable Doodle celebrating the anniversary of the first World's Fair. Now we've got the Doodle displayed above. Marking what would have been the 113th birthday of Alexander Calder, it's a mobile; inventing the playful structure is probably what the American sculptor and artist is most famous for.
But the 113th birthday? They couldn't have found something better to Doodle today, like Anti-Fascist Struggle Day in Croatia or the 100th anniversary of the day George V and Mary of Teck were crowned King and Queen of the United Kingdom of Britain and Ireland, and waited until Calder's 115th or 120th birthday? Something smoother, a rounder number? No, Google needed Calder now. And that's because they've probably been working on this Doodle for a while. You see, it's a special Doodle: The first Google has done using HTML5.
If you navigate to Google's homepage in an HTML5-compliant browser (like Chrome), you'll see the mobile move and sway based on where you move your mouse. If you view the Doodle on a laptop or mobile device with a built-in accelerometer, tilting your computer will also affect the movement of the mobile.
"I like to think Calder would have appreciated today's Doodle, since we're setting up shapes and abstractions and letting them act on their own," Google software engineer Jered Wierzbicki wrote in a blog post. "I coded up a very basic demo of a mobile and showed it to a friend, who showed it to one of our Doodlers -- and then this amazing thing happened: talented artists and engineers who liked the idea just started to help! What we ended up with is way cooler than anything I could have built on my own. I'm proud to work for a company where an idea like this can actually happen."
Image: Google.