Google Makes a Magazine—In Print, With Actual Paper
A fancy print publication from the overlords at Google entices business executives with tales of the search giant's unparalleled creativity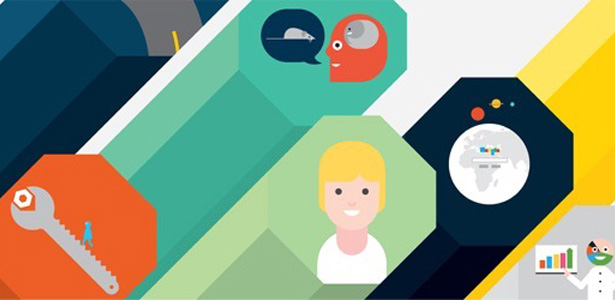 This morning Google released its first U.S. edition of its magazine Think Quarterly. A limited number of business executives will receive a copy by snail mail. For everyone else, a free version is available online. The New York Times reports that the print edition is bound with a magnetic cover, has heat-sensitive end paper, comes fastened with a blue ribbon, and is embossed with an old-fashioned seal.
Think Quarterly is a big, glossy ad for Google, with its lead pages dominated by advertising execs, its text peppered with McKinsey-speak ("we kept iterating"), and a feature story highlighting the good work Googlers are doing around the world.
That's not to say that Think Quarterly is pure marketing puffery. Several of the essays provide genuinely thought-provoking insights into the future of the Internet and society, such as Google software engineer Amit Singhal's piece describing how search technology could be much more personalized, less limited to text, and smarter. An end-of-the-book profile trots out futurist Ray Kurzweil to provide a few nuggets of thought on the prospect of the Singularity.
Though the online version is lovely enough, with a snazzy navigation bar and a clean design, the print version is something of a luxury product. With Think Quarterly, Google is promoting itself not as the familiar search giant but as an elite band of thinkers and strategists who are changing how the world -- and especially the advertising world -- works. What Google seems to be saying with this product is that the Internet, that's for everyone. But something special to hold, well, dear customer, that's only for you. That may seem like a strange message coming from a company whose business is the Internet. But the Internet doesn't pay the bills -- advertisers do. Think Quarterly is Google's love letter to them, reminding them of all the good times they've shared and dreaming of a future together.

Image: Google.