Google Doodle Honors the 450th Anniversary of St. Basil's Cathedral
Standing in the Red Square, St. Basil's, with intricate, colorful domes and numerous spires, looks nothing like any other building in Russia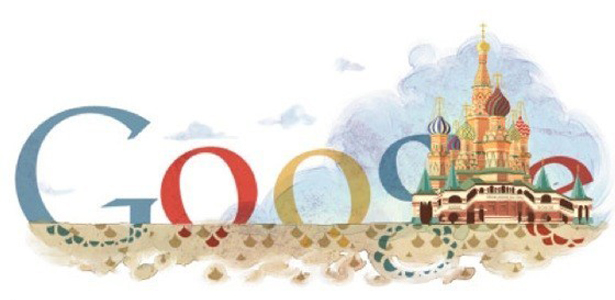 Russia's St. Basil's Cathedral had an official groundbreaking ceremony in 1555, but because it wasn't officially completed until July 12, 1561, Google waited until today to celebrate the church's 450th anniversary with a special Google Doodle.
The Russian Orthodox church stands in Moscow's Red Square and, with intricate, colorful domes and numerous spires, looks nothing like any other building in Russia. It is officially known as "The Cathedral of the Intercession of the Virgin by the Moat," and towers over the tomb of Basil the Blessed, a Russian Orthodox saint who shoplifted in order to give to the poor.
"The eccentrically devout St. Basil wore no clothes even during the harsh Russian winters and was one of the very few Muscovites who dared to lambast tyrannical Czar Ivan the Terrible," according to the Associated Press. "Ivan, whose gory purges claimed tens of thousands of lives, feared St. Basil as 'a seer of people's hearts and minds,' according to one chronicle. He personally carried St. Basil's coffin to a grave right outside the Kremlin. The cathedral, constructed to commemorate Ivan's victory over Mongol rulers, was built on the burial site."
After a lengthy restoration process, Russia is celebrating the anniversary of the cathedral's construction by opening an exhibition dedicated to Basil.
Image: Google.