Facebook's Mark Zuckerberg Is Google+'s Most Popular User
Google might be trying to steal some of Zuckerberg's users with its new social service, but the Facebook crowd is making itself heard
Google might be trying to steal some of Zuckerberg's users with its new social service, but the Facebook crowd is making itself heard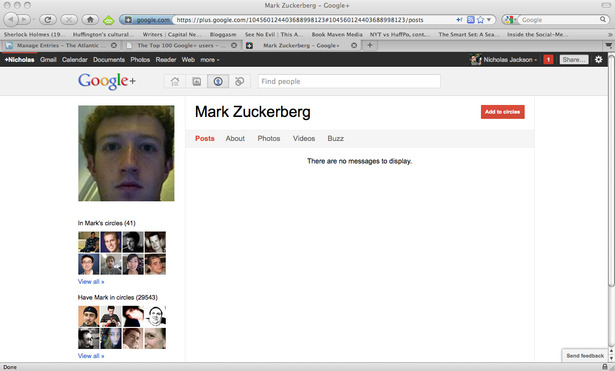 On July 4, just six days after the launch of Google+, the much-anticipated social sharing service from Google has an unlikely star. Mark Zuckerberg, the founder and CEO of Facebook, often tossed around in headlines and stories about Google+ as the service's primary target -- for destruction, not adoption -- has more followers than anybody else. By far.
According to Social Statistics, a tracking service for Google+ users that is in beta mode, Zuckerberg has more than 21,000 followers even though he hasn't actually used the service. He just has an empty profile with a way-too-close-up photo of his face staring into your eyes and nothing more. (Note: Social Statistics appears to updating slowly. When I visited Zuckerberg's profile while writing this, he had nearly 30,000 followers -- see the embedded profile page displayed above. The assumption, though, is that his number of followers has grown at a rate proportional to that for other users.)
The second most popular Google+ user is Larry Page, with just under 15,000 followers. That makes more sense: A co-founder of Google, Page was named the company's chief executive officer this last January. The rest of the Google+ top 10 is filled out primarily by tech bloggers, such as Gina Trapani, the founder of Gawker's Lifehacker blog; Robert Scoble; and MG Siegler of TechCrunch.

Image: Google+.