Enron Emails Reveal What a Web of Deceit Really Looks Like
The shape that a social network takes may be a new kind of digital smoke to spot the fires of corruption within an organization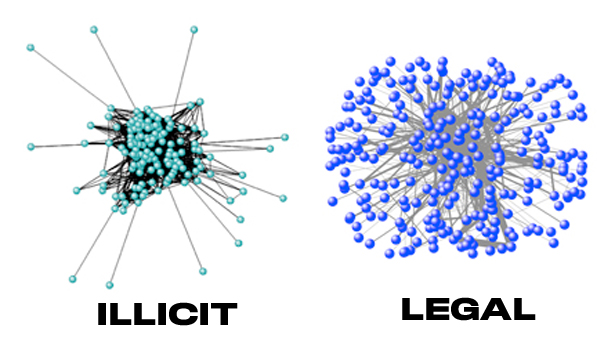 The social networks constructed through analysis of Enron's internal emails reveal legal and illicit projects take totally different forms. In legal projects, many people are connected to many of the other people on a project and information is widely distributed. In the illicit projects, information was concentrated in the hands, what researchers call the "hub," and pulled in from distant and isolated "spokes."
Carnegie Mellon organizational theorist Brandy Aven led the research and presented it at an MIT workshop on social networks earlier this month. It was first reported by Science News.
Aven makes two excellent points about her research. First, a hub-and-spoke setup would keep the people at the edges of the network in the dark and therefore less likely to know about (or stop) the dirty dealing. Second, while we tend to think of social networks as the preexisting "plumbing" through which information flows, her analysis makes it obvious that in some cases, the information determines what the plumbing looks like.
And, of course, there is a very important implication of this work: Some networks might be structurally suspicious, even if none of the content passing on it looks that way. This kind of analysis could be one way to diagnose bad acting within a large organization.
Note: I'm talking to Aven later today. Expect updates.
Via Zach Seward on G+.