Apple Is Talking About Buying Hulu—and Netflix Should Worry
The estimated $2 billion price wouldn't make a dent in Apple's cash reserves, but could position the company for more incredible growth
The estimated $2 billion price wouldn't make a dent in Apple's cash reserves, but could position the company for more incredible growth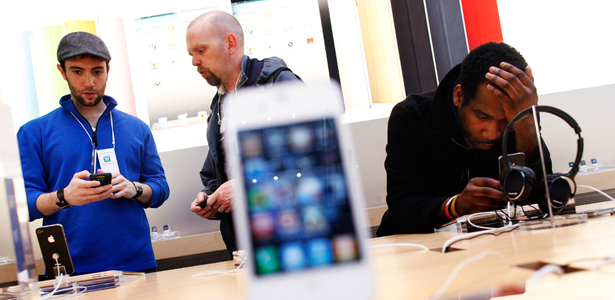 Apple has a lot of money to play with. The most recent earnings report made clear that, with millions of iPads, iPhones, iPods and other iThings sold every quarter, quarter after quarter, Apple has accumulated a huge stack of cash. $76.2 billion huge. Now everyone is wondering what they might do with it. Our own sister site, the Atlantic Wire, took a look at this question and concluded they could do one of three things: nothing, reward shareholders or acquire a company. They suggested Facebook, Groupon or Twitter. But they missed a big, easy target: Hulu.
Executives at the world's second-most-valuable company have considered making a move to buy the online video service, Bloomberg is reporting with two anonymous sources that have "knowledge of the auction" but weren't authorized to speak about the ongoing negotiations. A representative from Apple refused to comment. So, too, did one from Hulu.

"Hulu would give Apple a new subscription service and represent a possible challenge to Netflix Inc.," according to Bloomberg. "Hulu's media-company owners, Walt Disney Co., News Corp. and Comcast Corp.'s NBC Universal, are offering suitors a five-year extension of program rights, including two years of exclusive access, people familiar with the matter said earlier this week."
That kind of exclusive access to fresh content is just what Apple needs to expand the streaming services it already has in place. Most of the conversation about streaming video often revolves around Netflix and Hulu, but Apple, through its iTunes media store, has been offering television shows and movies for years. "Hulu would add a new element to their arsenal from a streaming and subscription standpoint," Brian Marshall, an analyst at Gleacher & Co. in San Francisco, told Bloomberg. Marshall also recommended that people stock up on Apple shares.

And that's because a Hulu buy wouldn't set Apple back very much -- it's a big acquisition but, at the estimated $2 billion price tag, would hardly make a dent in Apple's cash reserves -- yet it would position the company for enormous growth in a market where the infrastructure is already in place. Hulu's content combined with the iTunes subscription model would create a serious competitor to Netflix, which has been the subject of a lot of vitriol recently due to a planned price hike.

Image: Reuters.