In our "Question of the Day" feature for this year's Ideas Special Report, our readers tackle some of the emerging issues that are defining our time.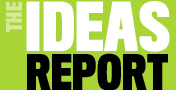 Since the iPad hit the shelves in April 2010, nearly 25 million units have been sold worldwide. Sales of Amazon's Kindle e-reader are expected to reach 
$6 billion in 2012
, nearly 10 percent of Amazon's revenue, while the company plans to release a
new tablet
in August to compete with the iPad in North America. Motorola and Samsung have both launched news tablet products to capture slivers of the rapidly growing American tablet market. Despite being relatively new, tablets are quickly becoming as ubiquitous as the white earbuds that signaled the dominance of the iPod in the early part of the last decade.
While the proliferation of tablets and smartphones in the past year looks like a victory for tech-savvy consumers, there are obvious concerns over how digital media consumption habits
affect our brains
, our
behavior
, and, more specifically, our relationship with reading. As Tim Carmody wrote here at
The Atlantic
nearly a year ago, the way we read has undergone numerous 
revolutions
in human history. So what does a tablet-based reading revolution look like? In
another article
, Carmody outlined a potential framework for evaluating these issues:
A bookfuturist manifesto could never really be like an avant-garde or political manifesto, partly because the whole idea of bookfuturism is to critically unravel these contradictions, rather than stake out definite positions that we'd cling to no matter what. For instance, when Amazon's Kindle first came out, I was completely of the mind that these text-only files cheaply mocked the experience of reading a book without actually including all its rich physicality, or trying to create a new, specifically digital experience. Now, as the whole industry's moved towards multimedia tablets and touch interfaces, I find myself thinking, "you know, maybe just focusing on text, and making that experience as useful and enjoyable as possible, is a really good idea. Text and textual interfaces are incredibly resilient and powerful. Bring back the command line!"

 

Bookfuturism turns out to be not just about books as such, but a kind of aesthetic and culture of reading, literacy, history, in connection with (only rarely in opposition to) other kinds of media culture. And reading here would also obviously include newspapers and magazines, and even things like maps and advertisements and data visualizations, plus whatever's displayed on the different screens most of us look at all day at home or work. What does it mean to live in this hyperliterate world? How do we make sense of it?
Revolutions take time, and the tablet is far from the dominant medium for reading. And it may yet be that a mass preference for the feel and experience of a bound book -- the smell of paper, or the aesthetics on ink on the printed page -- will persist.
Question of the Day: Do you consider e-books to be books? Would you trade your entire collection of printed books for an unlimited digital library, routed directly through a tablet?