Wikipedia Adds WikiLove Button in Attempt to Stem Criticism
With enough work, this could become a model for other gentle social tools, but as it stands, it's closer to spam than anything else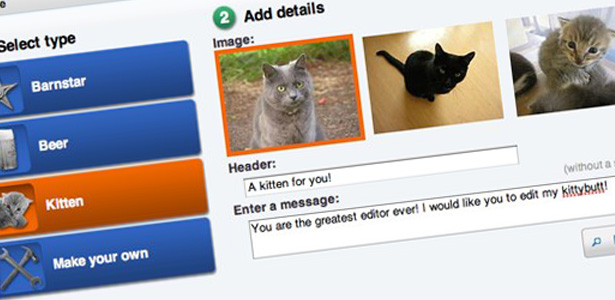 Wikipedia users are not very nice. But that's only partially their fault. The online encyclopedia has grown so large that making edits is more difficult than it has ever been. Over time, the number of corrections and criticisms sent to editors has steadily increased, while the amount of praise and thanks sent has decreased. But Wikipedia's own studies have shown the obvious, which is the exact opposite of how the community is currently acting: "having others compliment you on your edits/articles" is the best way to get people to edit more frequently.
So, in an attempt to solve that problem, Wikipedia has come up with an absurd experiment. Facebook has the Like button. Google has the +1 button. And now Wikipedia is getting a Love button. Scheduled to go live on Wednesday, June 29, the WikiLove button, as it has been named, is a strange attempt to convince contributors that their input is recognized and appreciated.
The crowdsourced encyclopedia can only expand and improve if it has a healthy number of people willing to spend their time writing and editing the content. It makes sense that people would be more willing to invest time and energy if they have a supportive community behind them, but it's unclear if digital pictures of cats and beer are the way to do that.
The WikiLove button, once it is rolled out to the main Wikipedia site, will appear in the right-hand corner of every user's page. It takes the form of a tiny red heart. Clicking on the button, which readers are encouraged to do when they come across something they find deserving of praise, will pull up the Love Interface, a crude pop-up window. There, users can select from a number of options for images and add their own note. In the example that Wikipedia provides, the message reads, "You are the greatest editor ever! I would like you to edit my kittybutt!" (I don't know what that means, either.)
Some have praised the WikiLove button as a "great idea" and a "very good idea," but it sounds like spam to me. While I appreciate comments and praise as much as the next editor, I wouldn't appreciate my inbox filling up with the same generic cat pictures and beer steins by readers who are unwilling to go out of their way to reach me with a more personal message.
Going forward, though, the experiment could evolve into a truly useful feature on Wikipedia. "The top nerds at Wikipedia" will be monitoring who sends what and how often using the WikiLove button "in order that a more hospitable environment can be optimized," according to ReadWriteWeb. And Wikipedia's team has made it clear they're not assuming they got this right the first time around. "We're not presupposing that we know how appreciation can best be expressed in the many different languages and cultures that make up the Wikimedia community," two Wikimedia managers wrote in a recent blog post. "Wiki administrators will be able to modify the user interface by following the instructions for customization -- so that whether you're wanting to award gifts of chocolate or stroopwafels or baklava, you can do so!"
With enough work, this could become a model for other gentle social engagement tools. The question that remains, though, is who will do all of the editing and tweaking required to get this into the best possible shape without somebody there to cheer them on and encourage them.
Image: Wikimedia Foundation.