When Flowers Met Science Fiction: The Mutations of the 1940s
Magazines and companies relied on the language of science fiction to sell new flowers, many created using methods from the form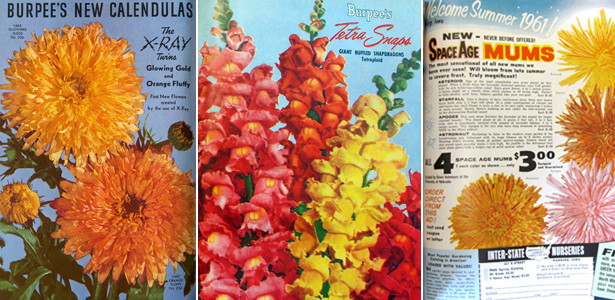 It has often struck me as strange that whereas the furniture of the modern house grows smaller and smaller, the plants in the modern garden grow larger and larger.... Our rooms have shrunk as our prosperity has swollen. But though our gardens have suffered a similar diminution, the horticulturists seem blandly unaware of the fact. From America comes news of six-foot gladioli, chrysanthemums with heads like footballs, pansies as big as your fist. The advertisement columns in the American gardening magazines have a Hollywood ring; everything is super-colossal and ultra-gigantic.... At the last Chelsea show there were delphiniums taller than guardsmen. They had been forced and cosseted and interbred until they no longer looked like delphiniums at all. They were rather frightening, staring out at the crowds with blank blue eyes as big as saucers -- flowers from a world of science fiction.

-- Beverly Nichols, Garden Open Today (1963)
Seed companies and scientists in the 1920s through the 1950s became interested in the ways that mutation could accelerate the plant breeding process. Mutation was not new, but technological developments in chemistry and radiation aided scientists in their quest to develop bigger, brighter and longer-lasting flowers and plants. W. Atlee Burpee & Company, under the leadership of David Burpee, who took over management of the firm after his father's death in 1915, developed a repertoire of mutated flowers. In a 1940 interview with David Burpee, Popular Science declared "Test-tube Magic Creates Amazing New Flower!" The author of the article complimented the speed of the process, and the modern methods used by researchers to create plants "never seen on earth before."
Magazines and companies relied on the language of science fiction to sell these new flowers; the science itself was as much of a selling point as the aesthetics of the improved species. The X-Ray Twins (seen above in the 1942 Burpee's Annual) were created by treating calendula seeds with x-rays to induce mutations. Colchicine, a substance derived from autumn crocuses, was used to manipulate the chromosomes of plants. This treatment yielded Tetra snapdragons with twice the number of chromosomes as a regular snapdragon, resulting in larger blooms and stalks (seen above in the 1951 Burpee's Annual).
Science fiction's popularity grew immensely during the Cold War, perhaps at least partially in response to the specter of nuclear fallout. Though postwar families lived in the greatest period of abundance America had ever experienced, there was an underlying current of anxiety about life in the atomic age. As historian Elaine Tyler May has posited, the home was a site of security from the destabilizing power of nuclear war. Technology was domesticated through the purchase and use of new appliances, building materials, and modern miracles -- even flowers.
Inspired by the launch of Sputnik I in 1957, a variety of new flowers were introduced -- or reintroduced -- with names appropriate for the Space Age. Marigolds and petunias were recast as blazing comets or flying saucers in outer space. You could plant a row of Space-Age Petunias -- Satellite and Polaris -- next to New Space-Age Mums -- Asteroid, Starfall, Apogee and Astronaut. Rocket snapdragons could share a bed with the Flying Saucer morning glory and the Astronautix dahlia. "Space Age" became a consumer catchphrase -- one that managed to embrace something as earthbound as a garden.
See more posts from and about the Smithsonian.
---
This post was first published on the Smithsonian Collections Blog.
Images: 1. Burpee's Annual, 1942; 2. Burpee's Annual, 1951; 3. "Space Age Mums" advertisement in Flower Grower, 1961.