The West's Coming Internet War
Two of the Western world's biggest transnational institutions may soon fall into a complex, ideological struggle: a right to free and open Internet vs. a right to be forgotten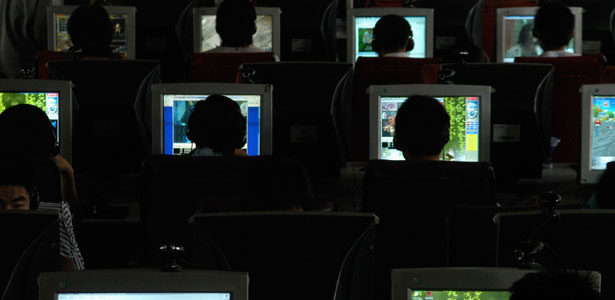 On matters of Internet freedom, the Western world can't even begin to make up its mind, and its two biggest transnational institutions may soon fall into a complex, ideological struggle over people's rights to digital expression. Last Friday, the United Nations declared an audacious new right to the Internet in a long report, as The Atlantic's Nicholas Jackson chronicled. In the wake of Middle Eastern revolutions of the Arab Spring, the UN states that the Internet acts as a catalyst for a variety of other human rights, for free expression and the democratic exchange of ideas. This expression can "offend, shock or disturb" as well as attack governments and high-profile figures, but people must be able to raise their voices online (PDF).
Frank La Rue, the UN's special rapporteur for free expression, goes on to encourage "intermediaries in particular to disclose details regarding content removal requests and accessibility of websites." Using technology to block and filter content, La Rue contends, violates states' obligation to guarantee free expression.
Sounds lovely. Yet a problem looms -- these proposed rights of free expression and open Internet run counter to trends that have been building within Europe for years. Many countries there welcome an individual's right to such "content removal requests." The continent, from Spain to France to the overarching European Union itself, has repeatedly advocated and emphasized "a right to be forgotten," a right for Internet users to eliminate references to themselves online as they choose. Individuals should, the right suggests, be able to control their digital identity and remove content that may be embarrassing, outdated or invasive. I wrote about Europe's radically different view of Internet privacy for The Atlantic in February, back when Spain's data protection agency had requested Google to remove 90 links and been denied. In its refusal, the U.S.-based search engine justified its decision by referring to society's vital need for objective Internet search.
In my earlier piece, I took a broader view, looking back decades to understand how two views of privacy could develop in this way. Scholarship pointed to America's First Amendment principles contrasted against Europe's rights of personality as well as an enshrined culture of privacy that never legally had the same protections in the United States. The two cultures had developed for years and a sharp divide emerged as the two countries developed their presences online. The European Union announced intentions to legislate the principles of a "right to be forgotten" in November of 2010 and confirmed these goals this past March. These new laws would allow Europeans to sue transnational Web giants like Facebook and Google into submission to European standards of privacy. Websites like YouTube and Google Maps ran up against the continent's courts. As the EU justice commissioner noted in her March speech: "A U.S.-based social network company that has millions of active users in Europe needs to comply with EU rules."
Except the EU's desired rules and the EU sense of privacy also happens to embody a concept that, for many people, is synonymous with censorship. For Internet users to control their own data, others' freedom of expression would inevitably be limited -- newspapers, bloggers, social media users and more. People's ability to discuss and feature information about anyone beyond themselves could be significantly hemmed in by these laws.
More critically, these censoring tendencies collapse under the language of the UN's new declaration.
The new UN report explicitly discusses the problems of limiting free expression on account of privacy concerns. It points to the 2010 case of an Italian court that convicted three Google executives for allowing a controversial video to be briefly posted on YouTube. "Holding intermediaries liable for the content disseminated or created by their users severely undermines" open rights of expression, the report noted. Pursuing intermediary Web entities like YouTube and Google "leads to self-protective and over-broad private censorship, often without transparency and the due process of the law."
Consider the UN's bold, broader challenge: "The Special Rapporteur emphasizes that there should be as little restriction as possible to the flow of information via the Internet, except in few, exceptional and limited circumstances prescribed by international human rights law."
Catch that phrase? As little restriction as possible to the flow of information.
The UN's report, beyond its language about the right of all people to have access to the Internet, may be more significant for its unflinching call for free, unhindered Internet use by the world's governments. It does allow for possible restrictions "to protect the rights or reputations of others," but the standard of proof seems high and these restrictions of expression to be the exception rather than the rule. The outlined restrictions comprise child pornography, hate speech, defamation, direct and public incitement to genocide and advocacy of national, racial or religious hatred that constitutes incitement to discrimination, hostility or violence. It also outlines individuals' data protection concerns and the privacy issues therein, but those fall far short of removing links to newspaper articles on Google.
The UN document appears designed to target repression abroad in more heavily repressive spots such as the Middle East and China and to trumpet what the special rapporteur may consider Western values of freedom (and potentially to herald disclosures from groups like WikiLeaks), but the real target of its missives as well as the legal implications could very well fall closer to home. Some European countries have voiced the same broader goal of the UN declaration -- that people should have a right to Internet access. As the report acknowledges, France declared as much in 2009. Yet the underlying sentiments of freedom and expression hardly harmonize with European sensibilities surrounding privacy. The digital and growing right to be forgotten doesn't fit easily into the UN's message. Even more complicating is the EU's own presence within the UN, accounting for 27 member nations and an eighth of the votes.
Could Europe's right to be forgotten evolve into a direct violation of the UN's newly entrenched principles and commitment to Internet liberty? Expect the battles to only be beginning.
Image: Stringer Shanghai/Reuters.