The Pursuit of Happiness on 2 Wheels: A History of the Bike
An example of the design, reception, and transformative power of the bicycle, a simple machine that changed the world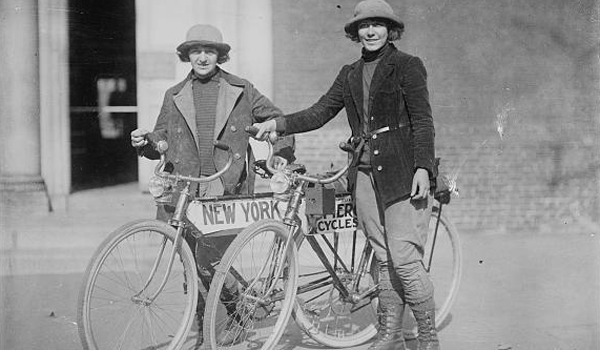 I'm a big proponent of bike culture and an obsessive cyclist myself. On a cultural level, we've seen the incredible effects the bike has had on everything from
emancipating women
to
catalyzing subcultures
to
revitalizing the local economy
. And while the bicycle, since its earliest incarnation, has remained a rather remarkable machine, the never-ending quest for its perfection is a relentless conduit of creativity, imagination, and artisanal innovation. That's exactly what Robert Penn documents in
It's All About the Bike: The Pursuit of Happiness on Two Wheels
—a fantastic new chronicle of the bike's story, from its cultural history to its technical innovation to the fascinating, colorful stories of the people who ride it.
"At the heart of [the capstone of the Victorian era] was the bicycle. In 1890, there were an estimated 150,000 cyclists in the USA: a bicycle cost roughly half the annual salary of a factory worker. By 1895, the cost was a few weeks' wages and there were a million new cyclists each year." Robert Penn
Penn, a Condé Nast Traveler writer who has traveled more than 25,000 miles on a bicycle, approaches his subject with equal parts humor, humility, and authoritative intelligence as he sets out to find himself a new bike. In the process, he dabbles across industrial archeology, economic theory, design, and much more, profiles bike culture pioneers, talks to artisan frame builders from the world's most arcane bike workshops, and even entertains the conceits of Victorian society, where a fear that the bicycle might be sexually stimulating to women became a real concern.
The bicycle...has been responsible for more movement in manners and morals than anything since Charles the Second ... Under its influence, wholly or in part, have blossomed weekends, strong nerves, strong legs, strong language ... equality of sex, good digestion and professional occupation—in four words, the emancipation of women.
Entertaining, illuminating and beautifully illustrated, It's All About the Bike is a rare and precious portal to the heart and soul of bike culture and its surprising footprint—tireprint?—on all of culture.
---
This post also appears in Brain Pickings.
Images (top to bottom): The Library of Congress, Tamara Shopsin and Jason Fulford for The New York Times