The Cast of Characters Tied to MySpace's Rapid Rise and Fall
In an effort to save what he once saw as a savvy buy, Rupert Murdoch has shuffled through several executives. Where are they now?
In an effort to save what he once saw as a savvy buy, Rupert Murdoch has shuffled through several executives. Where are they now?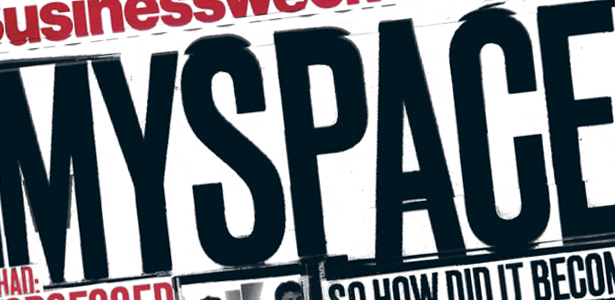 Even the cofounders rarely visit their profile pages on MySpace these days, according to this week's Bloomberg Businessweek cover story, which is a lengthy look at the rise and fall of what was once considered the hottest social network. At one point, the site was adding about 300,000 new users every single day. That kind of growth was enough to attract Rupert Murdoch, who had a new News Corp. headquarters drawn up that would have placed, "front and center," a "gleaming MySpace pavilion." Had it been built, the new office, which was to be located on the far west side of Manhattan, would have placed Fox News, the Wall Street Journal and Murdoch's other properties behind the pavilion. Murdoch was sure that MySpace was the future of his company.
Until he wasn't. Only a few years after purchasing MySpace, the site started hemorrhaging users. For the last two years, it has lost, on average, more than one million users in the United States every month. Where the company once made about $470 million in advertising dollars every year, according to Businessweek staff writer Felix Gillette, it's now projecting just over $180 million for 2011.
This past February, with his attention turned to The Daily, his new iPad-only newspaper, Murdoch decided to start looking for a buyer to take MySpace off of his hands. Asking only $100 million, or about one-sixth of what he paid for it just six years earlier, Murdoch was unable to find any interested buyers. The site is still on the market.
These are just some of the details presented in the Businessweek story, which is worth reading if only for the comments made by MySpace co-founder Chris DeWolfe, who has never previously opened up about his time at the site. It's interesting that DeWolfe, who now runs MindJolt, decided this was the time to speak considering that he has been rumored to be a finalist to buy back his company. But DeWolfe is just one of the characters in this story, one of those who played a role in MySpace's rise and fall. Who are the others? And where are they now?
Chris DeWolfe: One of the co-founders of MySpace, DeWolfe stayed on with Anderson (below) when Rupert Murdoch purchased the company only to be pushed out in April 2009. Today, DeWolfe runs MindJolt, a startup that allows users to play free arcade games online. He is rumored to be one of the finalists to buy his company back.
Tom Anderson: If you were ever a member of MySpace, you know Tom. Tom, always referred to by just his first name, was automatically added to your list of friends immediately after joining the site, so you were never alone. It's unclear what Anderson has been doing since he was pushed out of MySpace in April 2009 by Murdoch. He lives alone with his dogs and a cat in California.
Jeremy Jackson: The former Baywatch child star makes in appearance in the Businessweek article because he relied heavily on MySpace for self-promotion before the site collapsed. "I tried to cling to MySpace for a long time, hoping that someone there would come up with some idea to keep it alive," Jackson told Gilette. "But my assistants and business partners finally beat it into my head that it was a dead horse. It's done. It's a joke. If you do stuff on MySpace, you just look sad." Until he stopped using the network, Jackson spent several hours every day on MySpace, updating his profile, which was "decorated with Trojan Magnum XL condoms."
Rupert Murdoch: The head of News Corp., Murdoch purchased MySpace in 2005 for more than $500 million, but it currently looking for a buyer to take it off of his hands for a fraction of that price. At one point, he was so sure that MySpace would grow to be the biggest part of his media empire that he designed a new News Corp. headquarters with MySpace at the core at his other properties around it.
Shawn Gold: Formerly the head of marketing and content at MySpace, Gold is now the CEO of consumer startup Cocodot.com. He is celebrated as the individual responsible for growing MySpace's film, music and comedy franchises, which were, for a long time, seen as the branches of the company that would keep it alive.
Richard Blumenthal: Danah Boyd, a senior researcher at Microsoft Research, told Gillette that social networks are sensitive to public perception. She believes that, when Blumenthal, currently a U.S. senator (D-Conn.), went on the offensive as the attorney general of Connecticut in 2006, he did irreparable harm to MySpace. Blumenthal launched an investigation "into minors' exposure to pornography" on the site, according to Businessweek, that sparked a media frenzy.
Jonathan Miller: When Murdoch brought in Miller, then the CEO of AOL, Anderson and DeWolfe must have suspected that their time was coming to an end. Hired by Murdoch to take over as chief digital officer for News Corp., Miller is a media veteran who has also served as CEO of USA Information and Services and the managing director of Nickelodeon International. He serves on the board of the American Film Institute.
Peter Chernin: Chernin, once DeWolfe's supporter and mentor, left his position as the second-most-powerful executive at News Corp. when Miller was brought in by Murdoch. It was shortly after this that some of MySpace's top talent -- the senior vice president for engineering, the senior vice president for strategy and the chief operating officer -- decided to leave the company to form their own startup. After leaving, Chernin started the Chernin Group and Chernin Entertainment, which produces feature films and television programs. He is a corporate director for American Express, is chairman of Malaria No More, and sits on the board of Friends of the Global Fight Against AIDS, Tuberculosis and Malaria.
Mike Jones: Named the CEO of MySpace in late 2010, Jones is one of the three (see Van Natta and Hirschhorn, below) individuals brought in after DeWolfe and Anderson left. Before joining MySpace, Jones worked as the CEO of Userplane and as a senior vice president of AOL.
Owen Van Natta: Van Natta was brought in, at the same time as Hirschhorn and Jones, as MySpace's new CEO in 2008. Previously, he had served as Facebook's chief operating officer and chief revenue officer after leaving his position as vice president of worldwide business and corporate development at Amazon. Van Natta left the tumultuous MySpace after only ten months in the top spot to join Zynga, the makers of FarmVille and other online social games, as the executive vice president of business.
Jason Hirschhorn: After Van Natta left to join Zynga, Hirschhorn was promoted from his spot as the chief product officer, a position he was named to just 10 months before when he joined as part of the new leadership team, to co-president with Mike Jones. He oversees public relations, marketing, customer care, security and privacy for the social network. Previously, he worked as the president of the Sling Media Entertainment Group and the chief digital officer of MTV Networks, where he was the youngest senior executive in MTV's history.
Image: Businessweek.