Swarm of Jellyfish Shuts Down a Scottish Nuclear Power Plant
The Torness reactors can be primarily cooled by gas, but they still require water pumped in from the North Sea to meet regulations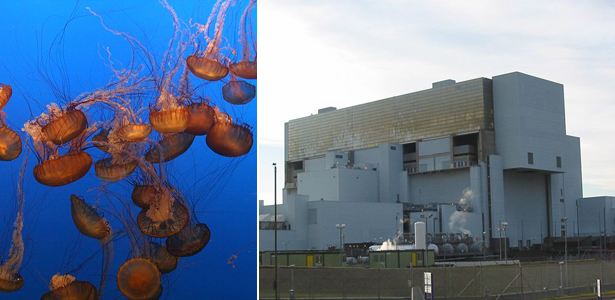 In recent days, we've seen nuclear power plants threatened by fires and floods, but this is something new. Both of the reactors at the Torness nuclear power station in Edinburgh, Scotland, were shut down on Tuesday afternoon when a swarm of jellyfish clogged the filters that are fitted over the pipes sucking water into the building. With a clean-up operation already under way, officials expect the plant to be up and running again by next week.
The reactors at Torness, which is a second-generation facility and wasn't commissioned until 1988, are relatively advanced. But despite being primarily gas-cooled, the reactors still require seawater to keep them at a temperature low enough to comply with safety regulations. The seawater is pumped in directly from that off the eastern coast of Scotland, where temperatures have been stable in recent weeks. And that's part of one theory attempting to explain the increase in the number of jellyfish in the area: They may have been driven to the normal temperatures as the waters in other parts of the North Sea have been heating up.
"At no time was there any danger to the public," a spokesman from EDF, the French energy company that owns the plant, told the BBC. "There are no radiological aspects associated with this event and there has been no impact to the environment." Despite the quick assurances of energy officials, though, a portion of the public always grows a little concerned whenever a nuclear power plant is shut down.
And perhaps more so in recent months. Were it not for the disaster at Japan's Fukushima Dai-ichi nuclear power plant in March, we might not have even noticed this problem. Ever since an earthquake and the resulting tsunami damaged the reactors at Fukushima, leaving the entire world questioning the present and future of nuclear power, we've been hyperaware.
Images: Wikimedia Commons.