Super 8's Purpose: Documenting the Past, Capturing the Present
While cultural and ethnographic film had been shot using other gauges, Super 8 quickly became the preferred stock after its release
While cultural and ethnographic film had been shot using other gauges, Super 8 quickly became the preferred stock after its release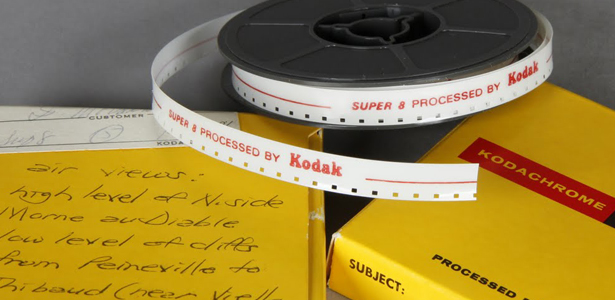 J.J. Abrams' Super 8 is, in many ways, an autobiographical film. This is not to suggest that Abrams' childhood town was the site of an alien encounter, but rather that the film's central narrative about kids making a movie mirrors Abrams' own experience with amateur filmmaking. In an interview with Time magazine, Abrams reveals that in the early '80s, he and friend Matt Reeves submitted a Super 8 film to a teen amateur film festival where they received high praise and recognition from critics. Citing Steven Spielberg as one of his cinematic heroes, the then 15-year-old Abrams caught the eye of the famous director, who asked Abrams and Reeves to repair his own early 8mm films made in the 1960s. Little did Abrams or Spielberg know that thirty years later the two would again join forces, this time with Abrams directing and Spielberg producing, on a project paying homage to a particular time and style of movie making. (For more on the Spielberg/Abrams relationship in the creation of Super 8, see "Hero Complex" from the Los Angeles Times.)
Perhaps the most important aspect of Super 8 is its emphasis on careful documentation. In Super 8, film documentation plays a key role in providing the evidence and understanding of the creature wreaking havoc on the town. Not only do the kids inadvertently capture its image during their midnight movie shoot, they also stumble across an extensive B&W 8mm film record of its history, left by the ex-government scientist-turned-high school biology teacher. It is in that record that the identity and motive of the creature is finally revealed -- not in full cinematic widescreen, but rather in a small square of light projected onto a wall, accompanied by a separately recorded audiocassette tape.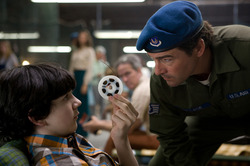 Like the biologist in the movie, scientists have often applied film to their research, using it as a crucial tool for collecting visual data. This is especially true for anthropologists, who recognized the potential of film technology for their pursuits in documenting evidence to facilitate the understanding of different cultures. Any footage obtained could then be applied to a variety of scientific uses, including the creation of documentaries, as a teaching tool for building observational skills, or as a filmic record preserved for later research and study.
This footage from Gertrude Kurath's 1960 study of the music and dance of Rio Grande Pueblos provides a good example. Kurath's project was part of the Wenner-Gren Foundation for Anthropological Research, whose founding mission statement was the promotion and funding of "research, educational, technical and scientific work." Although filmed for her studies in ethnomusicology, Kurath's clear and well-documented raw footage has become a valuable source for study by scientists representing a wide range of interests.
While cultural and ethnographic film had been shot using other gauges, Super 8 quickly became the preferred stock. In a manuscript on "using Super 8 in the social sciences," filmmakers Robert and Eileen Zalisk specify how the gauge could best be used for research purposes. They suggest that because of the cheap cost and light weight, Super 8 was the ideal format for accumulating visual footage in the field. The Zalisks liken the camera to a field "notebook" with the ability of being able to take 3,600 individual pictures on a single cartridge of film -- the equivalent of 100 roles of standard 35mm 'still' film. Multiple cameras allowed for a single event to be captured from many angles, allowing for the differing views and perspectives of the filmer. Slow-motion camera settings could be used to capture variations in behaviors for close observation; similarly an individual's behavior could be filmed and monitored over a long period of time, or compared with footage of similar reactions in widely disparate regions. Super 8 cameras were fast and easy to reload, providing scientists and filmmakers with a quick reaction time allowing them to capture even the most spontaneous events.
The simplicity of Super 8 film also provided a way for cultures to engage with themselves. In the late 1960s, anthropologists John Adair and Sol Worth headed a cross-cultural communication study where Navajo Indians were trained to use cameras to film their own community. As the Zalisks suggest, a more complicated or complex system would not lend itself as well to this sort of "experimental" and ultimately fruitful filmmaking.
THE FUTURE OF SUPER 8
But there were problems with Super 8 as well. Professional filmmakers were discouraged by the relatively few choices of available film stocks. And while the light weight and small size of Super 8 cameras made them ideal scientific tools for documenting data, many felt that these features also encouraged casual or sloppy filming. As a result, many universities tended to discourage the use of Super 8, opting to use the 16mm format instead, and therefore did not have the equipment necessary for showing Super 8 film. Finally, a serious lack of proper editing facilities made it extremely difficult for individual researchers to create their own documentaries. The creation of video cameras in the 1980s, with nearly unlimited footage and sync-sound, led to a 400,000-unit drop in sales from 1977 to 1981.
Yet all is not lost for Super 8 mavens. Specialized 8mm enthusiasts Toni Treadway and Bob Brodsky founded their center for 8mm film in the 1980s, and continue to work with and promote small-gauge film. Their website, Little Film, remains one of the best places to find information on the history, preservation, and use of Super 8 film. On the future of Super 8, Treadway offers the following:
The affordability, portability, convenience, beauty and image permanence of real movies continues to attract discerning artists to small gauge film, despite the ease of digital video camcorders. The roster of working filmmakers today whose careers include movies in 8mm or Super 8 is stunning: not just the generation of Stephen Spielberg, Spike Lee, Gus Van Sant, Rick Linklater, but the emerging directors like Jem Cohen, Matthew Harrison, Kelly Reichardt, and a host of experimental film artists not yet widely known. So here we are ... still shooting 8mm film. How much longer? As long as film makers buy it. Film is a compelling medium that sings a beautiful song on any screen.
It seems likely that Abrams' film is further helping the cause. In conjunction with the release of the film, several marketing strategies made virtual Super 8 filming available to the masses. In May 2011, Apple released a Super 8 iPhone application allowing subscribers to use their ordinary cell phone camera to take film in the "style" of the medium. Abrams also uses actual Super 8 footage in his film, having his young stars further mirror his childhood experience by writing, directing and filming the zombie movie, The Case, which appears in full during the credits, with their own Super 8 camera.
So what is the future of Super 8? One can hope that small gauge film, though an "older" technology, continues to be an important medium for the documentation, preservation and the creation of a collective world culture.
MORE ON SUPER 8 FILM:
See more posts from and about the Smithsonian.
---
This post was first published on the Smithsonian Collections Blog and is appears here with permission.
Images: 1. Roll of Super 8 Kodak Kodachrome film from the 1969 Morden-Smithsonian Dominica Expedition/Patricia Henkel for Human Studies Film Archives; 2. Super 8/Francois Duhamel for Paramount Pictures.