Steve Jobs First Planned Apple's 'Statement HQ' 3 Decades Ago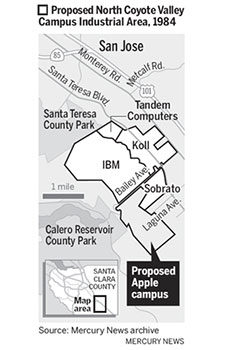 Before he was forced out of his position as CEO in 1983, Jobs purchased a plot of land in San Jose where he planned to move Apple
At a Cupertino City Council meeting last Tuesday, Apple CEO Steve Jobs presented detailed plans for Apple's new campus, which was quickly dubbed "the mothership" in the tech press. Shaped like a giant glass and steel donut, the campus Jobs' envisions will be four stories tall and powered by a natural gas energy center on-site.
"It's a pretty amazing building," Jobs told the City Council, according to the Unofficial Apple Weblog. "It's a little like a spaceship landed. It's got this gorgeous courtyard in the middle.... It's a circle. It's curved all the way around. If you build things, this is not the cheapest way to build something. There is not a straight piece of glass in this building. It's all curved."
With Cupertino's leaders eager to keep Apple's thousands of employees in their town, it looks like Jobs and his team will get everything that they want for this new project. It looked like an easy win for Jobs, but this is a project, we now know, that he has been dreaming about for at least the last 28 years.
Back in 1983, before the stock market crashed, the tech bubble burst and Steve Jobs was pushed out of his position as Apple's CEO, Jobs purchased a huge plot of land in San Jose's Coyote Valley that he selected while riding overhead in a helicopter. This would be Apple's next home, he decided, and he hired legendary architect I.M. Pei to design the campus and preserve the undeveloped land's beauty. Jobs announced the purchase after having drinks with then-San Jose Mayor Tom McEnery, according to the San Jose Mercury News.
"I am absolutely thrilled that after everything he has gone through, physically and everything else, that he still has this desire to take on something of this magnitude," Bob Feld, a vice president with Cornish & Carey in Sacramento, told the paper. At the time, Feld was a real estate consultant involved in the project. "To me, it's as if time hasn't shifted -- 30 years, same vision, same scope, same dream."
Jobs was forced out before the project could break ground and, despite his efforts, McEnery was unable to interest Jobs' replacement, John Sculley, in the campus. Apple eventually sold Coyote Valley.
Image: The San Jose Mercury News.