Scientists Create Antimatter They Can Actually Study
In one of those physics announcements that may or may not prove important when we figure out the ultimate nature of the universe, scientists at CERN, the European lab for particle physics, announced that they'd trapped antimatter with very strong magnets for 1,000 seconds. With that length of time to study the antihydrogen they'd created, the physicists may be able to coax some of the secrets out of the anti-atoms.
Now, we tend to think of antimatter as something exotic and possibly weaponizable, but in the physics world it's fairly commonplace. We've been generating antimatter since the 1950s through all kinds of different experiments like shooting a special laser at a gold target, no big deal. But it's difficult to keep the antimatter around because, as any good science fiction fan knows, when antimatter meets matter, both particles get annihilated (and release some energy). The CERN scientists got around that problem by using superconducting magnets to trap them.
So, if antimatter isn't used in any awesome weapons (yet!), why are scientists so eager to create it? Well, here's how I put it a couple of years ago, along with my favorite chart in all of physics:
"Everything in our universe is made of matter, but a century of physics has revealed that at the beginning of time, an exactly equal amount of antimatter existed. Then, two seconds after the Big Bang, something changed and suddenly there was more matter than antimatter. What we don't know is how matter won and opened the door to existence as we know it."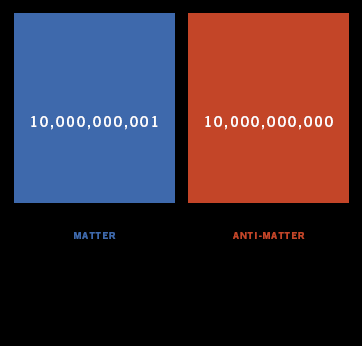 If we can produce antimatter long enough to study it -- as it appears we have -- we have a fighting chance of figuring out how we got that extra one up there.
Image: CERN.