Lessons From Zion: How to Dismantle a Nuclear Power Plant
It will take ten years, but we finally have a solution for isolating the radioactive waste that's been floating in a pool for more than a decade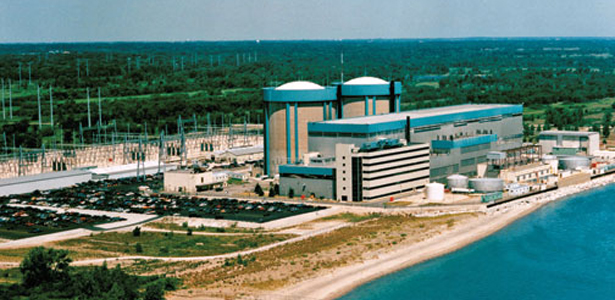 On Friday, March 11, a massive earthquake and tsunami hit northeast Japan. Thousands were washed out to sea, many homes were lifted from their foundations and entire communities were destroyed on that day, but the worst-case scenarios all involved the Fukushima Dai-ichi Nuclear Power Plant and its six disabled reactors filled with radioactive material. Devastating though the natural disasters were, the man-made plant posed a far greater risk. Fear of radiation led to mass evacuations and concerns about food and water supplies around the country.
About 6,000 miles away, in the small town of Zion, Illinois, executives from EnergySolutions were still deciding how best to begin dismantling a nuclear power plant that had been permanently shut down more than a dozen years earlier.
A month later, Senator Mark Kirk (R-Ill.) would tour the facilities with several other lawmakers. The group was quick to use the Fukushima disaster to advance their long-held political beliefs that all nuclear plants should be disabled. "I'm so passionately in favor of building the Yucca Mountain facility to take nuclear fuel away from the largest supply of drinking water in North America," Kirk said, referring to the United States' designated deep geological storage facility for high-level radioactive waste, according to NBC Chicago. As far as he's concerned, the 1,100 tons of waste sitting in and around the Zion plant's 257 acres need to be moved further from Lake Michigan and buried inside of a mountain adjacent to the Nevada National Security Site, where the U.S. has long tested nuclear devices only 65 miles outside of Las Vegas.
It only took Kirk about 12 years to voice that opinion; that's roughly how long the Zion plant has been sitting there, out of operation. Kirk and state Senator Suzi Schmidt, as well as U.S. representatives Robert Dold and Joe Walsh, said that the Fukushima disaster should serve as a wake-up call. It's time to move the fuel, they say, even though officials representing the nuclear industry have insisted that the waste is safe from both terrorist attacks and natural disasters, according to NBC Chicago's Ward Room. But it's not so easy. Dismantling a nuclear power plant is a lot more difficult than building one.
The plant was built in 1973 and the first of two reactors started producing power in December of that year. The second reactor came online nine months later, in September 1974. Located on the Lake Michigan shoreline, the plant sits about 40 miles north of Chicago, the largest city between the United States' two coasts, as the crow flies, and 50 miles south of Milwaukee. The Zion Nuclear Power Station, as it is officially known, supplied power to Chicago and the northern quarter of Illinois.
It is only one of over 60 nuclear power plants in the United States, a country with more than 100 reactors licensed to operated. All together, those reactors are responsible for nearly 20 percent of the country's total electric energy generation and make the U.S. the world's largest supplier of commercial nuclear power. With demand for nuclear power softening, though, there is only one reactor currently under construction in the U.S. (Watts Bar, Tennessee). Of the 100-plus reactors operating across the country, construction started on all of them in 1974 or earlier.
Eventually, those plants will no longer be safe to operate and will need to be dismantled. The current situation at Zion, if all goes according to plan, could provide one blueprint for proceeding with that act. Still, Sen. Kirk is not going to get his way. While the buildings will be torn down, the Midwest's water supply will never be completely safe until the U.S. figures out where to store all of its radioactive waste. There's no chance that a massive tsunami like that which took down the Fukushima plant will hit Lake Michigan and flood Zion, but Kirk isn't the only one who fears a terrorist attack.

And note, as a geologically volatile island, Japan is prepared for both tsunamis and earthquakes. Schoolchildren throughout the country keep padded hoods on the backs of their seats at all times should an earthquake hit. Only two days before the devastating events of early March, an earthquake measuring greater than 7 on the Richter scale didn't manage to do much damage to the island nation. But once-in-a-lifetime events do occur.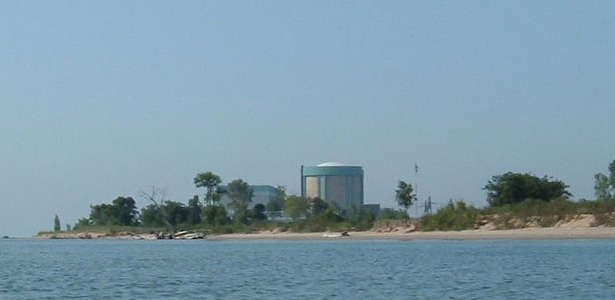 In February 1997, a control-room operator accidentally shut down the Zion plant's first reactor and then tried to kick it back into gear without following the lengthy and complicated procedures. The second reactor was shut down for refueling during this incident and Commonwealth Edison (ComEd) stepped in, making the decision to keep both reactors down. After a series of calculations, the electric utility, which is the largest in Illinois, decided that the plant could no longer produce competitively priced power.
It would have cost more than $430 million for ComEd to order new steam generators and the equipment wouldn't have been able to pay for itself before the plant's license expired in 2013.
In March 1998, about a month after operations at the plant ceased, all of the nuclear fuel was removed permanently from the reactor vessel and placed inside of the plant's on-site fuel pool. Pool is perhaps not the best word to describe the holding tank, which is unlike any traditional pool you might be used to. The waste tank is a steel-reinforced concrete shell that was built to withstand earthquakes. "It's a vastly different situation and a safer situation (than Japan's)," Gary Bouchard, vice president of engineering, operations and nuclear security, told the Daily Herald, a prominent newspaper in the region.
In late August of 2010 it was announced, in a first-of-its-kind deal, that the Nuclear Regulator Commission was allowing Exelon Corp., ComEd's parent company, to transfer the Zion plant license to EnergySolutions of Salt Lake City. In September, the company began preparing to dismantle the plant in a process that is expected to take 10 years, cost about $1 billion and employ at least 200 skilled workers every year. That money is coming directly from ComEd users, who, whether they looked closely at their bills and knew about it or not, paid one-tenth of a penny for every kilowatt-hour of electricity they used up until the end of 2006. That money was put into a trust meant to cover the costs of decommissioning the plant.
ComEd's calculations showed that the trust fund wouldn't have enough in it to cover the cost of dismantling the plant until the 2020s. That radioactive waste that legislators and others fear could have been sitting there for at least another decade. The process is only being sped up because EnergySolutions stepped in and said they could do it for less. The company has the technical capacity that ComEd doesn't, its CEO has argued. EnergySolutions is currently dismantling 18 reactors across England and owns its own low-level nuclear waste storage facility in Utah, which is large enough to accommodate all 104 of the country's operating nuclear reactors "with space left over," Mark Walker, a spokesman for EnergySolutions, told the New York Times.
EnergySolutions will dismantle the radioactive equipment, demolish the buildings and remove all of the foundations and leftover rubble in a process known as "rip and ship." Even the old metal desks, pipes, tools and workers' clothing, which could be considered radioactive after being kept that close to the nuclear fuel, will need to be shredded and moved to EnergySolutions' disposal site in Clive, Utah. There, all of the waste will be crushed and compacted. About four million cubic feet of waste is expected to be moved to Utah, according to the Wall Street Journal, and then entombed in clay and rock.
Anything non-radiated can be disposed of in regular landfills around the country. The Nuclear Regulatory Commission, which oversees reactor safety and security as an independent agency of the U.S. government, expects the entire process to be completed by December 31, 2020.
But none of this can happen until the radioactive waste is taken care of. EnergySolutions plans to transfer the spent fuel into concrete casks. The casks will remain on-site under the watch of ever-present armed guards until a permanent home can be found, perhaps decades from now. In addition to 24-hour security, the storage pad for the casks will be surrounded by fences and vehicle barriers. It, like the pool the fuel is currently sitting in, was designed to withstand earthquakes, floods, tornadoes and man-made assault. But that's not enough to please Sen. Kirk and some area residents. "If a 747 with explosives plowed into the (storage casks), it's right by our water supply," Paul Kakuris, president of the Illinois Dunelands Preservation Society, told the Herald. "I'm glad they're decommissioning it but as we go forward I'm concerned about the release of radioactivity during the process," added former Antioch Mayor Marilyn Shineflug.
There are more than 2,200 nuclear fuel assemblies sitting inside of the radioactive waste pool at the moment. They range in age from 14 years old to 40. Each of the assemblies will be moved into a three-inch thick stainless steel tube while still underwater. Each of the tubes will then be vacuum dried and welded shut, according to ABC 7 News, and then placed inside of larger concrete containers. During this process "there's no chance of a meltdown," Val Christensen, the CEO of EnergySolutions, told ABC 7. "The water temperature is below 100 degrees. These units have been cooling for 13 years." Once completed, there will be sixty-one steel and concrete dry casks, each weighing about 125 tons, stored on the pad, which will measure between 10 and 15 acres.
After the buildings have been dismantled and the fuel contained, Exelon will resume responsibility for the site -- and for watching over the storage pad. The property along the lake will be made to look like it did more than 40 years ago, before the construction team tasked with building the Zion plant first broke ground. Nothing will be left, except for thousands of tons of materials buried in a facility in Utah and thousands of tons of radioactive waste sitting in a storage area, where at least a few will always fear its misuse. And for what? A bit of electricity that has long since been spent.
Images: 1. Exelon Corporation; 2. Wikimedia Commons.