J.K. Rowling's New Pottermore Site Will Change Digital Publishing
Pottermore will be the only place fans can buy Potter in a digital format, a method of distribution Rowling has avoided for years
Pottermore will be the only place fans can buy Potter in a digital format, a method of distribution Rowling has avoided for years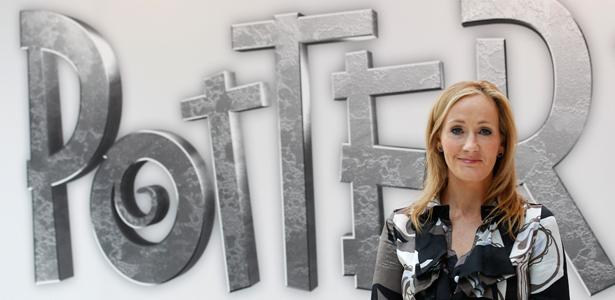 In a much-anticipated press event this morning, J.K. Rowling announced the launch of Pottermore, a new website meant to bring all-things-Harry Potter to the Web. It was revealed in a leaked memo yesterday that a central focus of the site would be an online gaming experience developed by the company Adam & Eve that will include real-world prizes such as magic wands secretly scattered throughout Britain and the United States. But the launch revealed that the site will be much more than that, though it does appear to include some gaming elements.
Created in partnership with Sony, Pottermore will be the only place that fans can buy the Harry Potter books in a digital format, a method of distribution that Rowling has held out on for years -- and we now know why: She's cutting out the middleman and keeping almost all of the profits for herself.
"The digital generation will be able to enjoy a safe, unique online reading experience built around the Harry Potter books," Rowling said in a video made available on the website. "Pottermore will be the place where fans of any age can share, participate in, and rediscover stories. It will also be the exclusive place to purchase digital audiobooks and, for the first time, e-books of the Harry Potter series."
Thirteen years after the first Harry Potter book was released, Rowling's Pottermore site is sure to capture an entirely new audience for her work and provide a platform that will squeeze even more money from her fans. That would imply, though, that they are not happy to give it to her. After lugging around Rowling's seven multi-hundred-page books for a decade, I suspect they'll be excited to revisit the magical world of Hogwarts on their iPads. An older audience, too, I once suggested, "might be persuaded to share a cultural experience with their children -- especially if they don't have to be seen on the train reading about dragons and flying broomsticks." On a tablet, your book is masked.
Digital distributor OverDrive will provide the e-book platform for Pottermore, according to PaidContent. Bloomsbury, Rowling's publishers in the U.K. will receive some slice of the revenues as will, presumably, Scholastic, her U.S. publisher. Rowling made it clear that she wants her books to be made available on every device to "guarantee people everywhere are getting the same experience and at the same time." But that would mean bringing the book to the Kindle, which would allow Amazon a cut of the revenues as well. Though, as Laura Owen has pointed out, "if there's any author that Amazon would let dictate the terms, it's Rowling." But at what cost?
When Harry Potter debuted more than a decade ago, it shook up the publishing world. Since then, hundreds of millions of copies have been sold all over the world. Rowling has positioned herself to disrupt the digital publishing system, too, using the exact same materials. Her new site won't start selling audiobooks and e-books until sometime in October, so the details are still a little shaky. Presumably, Rowling and her team are looking into all of their options.
"We want to make sure anyone who buys it can read it on any device," Pottermore CEO Rod Henwood told the Bookseller. "We are talking to the Kindles, the Apples, the Googles, Barnes & Noble to make sure they are compatible. We set the pricing, we maintain the policy of making them available to as many readers as possible." Henwood's words suggest that the Potter books will be released in a single format, probably EPUB. The problem? Amazon's Kindle, which controls about 60 percent of the e-reader market, according to PaidContent, doesn't support EPUB. But, if that's the route Rowling decides to take, it had better start. If Amazon doesn't change its policies, it will risk losing Potter fans to the Nook, the iPad, the Kobo and other e-readers currently on the market.
Image: Pottermore.