How Technology Is Helping to Revitalize the Art of Calligraphy
The skill's recent revival shows how heritage crafts can still flourish in the modern world, not in spite of, but with help from the Web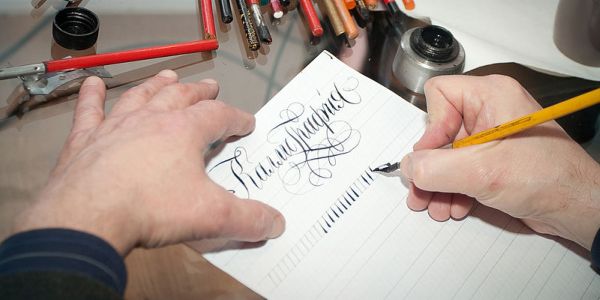 Good news if you care about handwriting, which I've already argued here remains a living tradition. Fifty people in the U.K. still make a living as calligraphers. Only fifty or fully fifty? What kind of living? What about the U.S., Europe and Asia?
This video profile by the Guardian illustrates the challenges and skills of a top practitioner, including some surprising ones, like the scarcity of really suitable paper. It also shows that heritage skills aren't just anachronisms; they can be reproduced, improved and amplified by electronic technology. And film and television producers, advertising art directors and greeting card producers (electronic ones, too) need somebody to produce original art. The main thing about craft revivals is that, like preservation of heirloom plants and rare animal breeds, they need a critical mass. It's encouraging to see a major newspaper -- another threatened institution -- using Web video to spread the word.
Thanks to @matthiasrascher for the link.