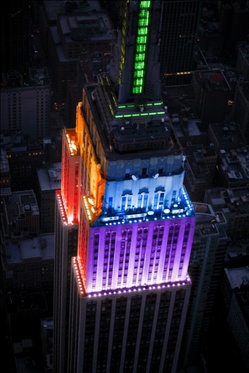 Less than an hour after the New York legislature passed a marriage equality bill 33 to 29 during a late session on Friday, Twitter started filling up with messages about how the Empire State Building had "gone rainbow." "OK, pictures of rainbow Empire State Building are getting me misty," screenwriter Diablo Cody wrote. "A rainbow shines on the Empire State and the Empire State building tonight!," another tweet read. And another: "Empire state building goes rainbow. Go us!"
A lot to celebrate. But wait a minute. How was the staff at one of the most iconic buildings in all of New York able to so quickly light up the exterior with the colors of the Gay Pride flag?
As it turns out, those responsible for the building have been prepared. And not necessarily because they anticipated that the bill would finally pass on Friday night. They were ready to flick the switch because the lights had been changed or installed more than six months ago when the building was last seen sporting that fabulous purple and red glow. Not for Gay Pride, which is celebrated in June across the United States, but for a Furthur show, according to Phish message boards.
A rock band founded in 2009 by Bob Weir and Phil Lesh, members of the Grateful Dead, Furthur played at the Madison Square Garden in November of last year. The Empire State Building was made to shine like a rainbow at night in honor of Jerry Garcia, the Dead's frontman until he passed away in 1995 at the age of 53.