Here's Why Apple Should Offer Free iPhones This September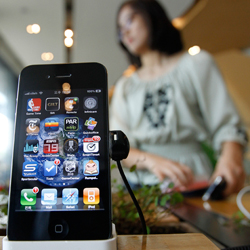 By now, it's all but assumed that Apple is going to release a second phone when it rolls out the next iteration of the iPhone sometime in September. But what if Apple has another trick up its sleeve? What if Apple, in addition to rolling out the next iteration of its popular smartphone (the iPhone 5) and a mid-range iPhone 4S, also announces that it will subsidize the complete cost of the iPhone 3GS?
That's the idea that RBC Capital analyst Mike Abramsky is kicking around this morning. "As its entry-level iPhone strategy, Apple is expected to cut iPhone 3GS to $0 (on contract, $399 unsubsidized) in conjunction with iPhone 5 launch," he wrote in a research note, according to Forbes. "This approach is intended to target mid-market smartphone buyers and counter Android's mid-market expansion."
If Apple can pull together all of the components required to expand that quickly at one time -- the parts, the labor, the necessary factory space -- I can't think of a better move that the company could make going forward. I think, though, that Abramsky has one thing wrong. It's not a mid-market expansion; it's a lower-mid-market expansion. The iPhone 5 will be the luxury product that long-time Apple fanboys will rush out to purchase, the iPhone 4S is the mid-market play and the subsidized iPhone 3GS goes after a completely new market.
Subsidizing the iPhone 3GS is a way to bring in those consumers who have carrier contracts, but have never purchased a smartphone because there was always a free option available to them. It's a way to bring in my stepfather, who refuses to buy a new car if it has automatic windows and locks. (The psychology of this, on the consumer side, doesn't make complete sense: With an expensive two-year contract, the cost of a unit upgrade at the time of purchase is relatively minor when considered over said unit's lifespan.) This move would allow Apple to expand its market reach and share even as new competitors continue to mount challenges to the iPhone's supremacy.
Image: Jo Yong Hak/Reuters.