Groupon Is Raising Tons of Money, but Is It a Smart Investment?
A lot of the numbers that we want to see aren't yet available, but the ones that are make the daily deal website look pretty good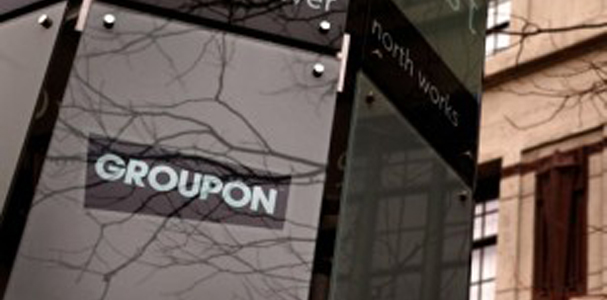 Earlier this afternoon, Groupon filed for an initial public offering with the Securities and Exchange Commission hoping to raise $750 million and stay ahead of the competition, which Andrew Mason dismissed this week at All Things D's D9 Conference as a bunch of "copycats." A lot of the tech reports that quickly followed the filing -- it takes a while to offer anything of substance given the length of the submission -- toss around the big, impressive numbers: Groupon brought in $644 million revenue in the first three months of 2011 and sold millions of coupons to its customers from tens of thousands of merchants. But there were some numbers stuffed into the S-1 filing that weren't so impressive, too.
Despite revenue figures in the hundreds of millions for more than a year, Groupon is still bleeding money. After spending more than $200 million in marketing, with most of that going towards online advertisements, in just the first quarter of 2011, Groupon lost $103 million between January and the end of March. Since it was launched back in November 2008, Groupon has lost more than half a billion dollars.
But the company continues to burn through the money that investors are not afraid to hand over, showing that many are confident Groupon will turn around soon -- and in a big way. Because the company is not yet public, any figures not made available in today's filing are hard to come by and even harder to verify, but we graphed a few key numbers from June 30, 2009 (the end of the second quarter in 2009), and March 31, 2011 (the end of 2011's first quarter), to get a better sense of the company's growth.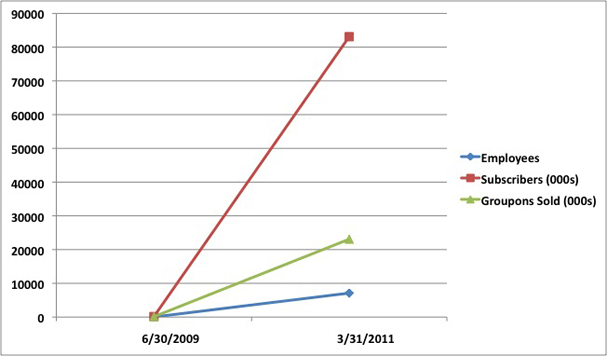 At that first data point, Groupon had 30 employees, 152,203 subscribers and had sold 116,231 Groupons over the previous three months. At the second, the company counted 7,107 employees, 83.1 million subscribers and had sold 28.1 million Groupons. While the number of Groupons sold has shown a dramatic increase over the past two years, the rate of growth pales in comparison to that of subscribers. That's not a good sign: The company is selling far fewer coupons per subscriber today than it was back in 2009. There could be a number of reasons for this: There's an excitement factor that comes with being an early part of the community and there was no reason to sign up for Groupon back in mid-2009 if you didn't intend on purchasing a coupon; today, friends of Groupon users sign up just to see what the site is all about. They may never purchase anything, happily deleting the morning deal that's always finds its way to their inbox.
There are good signs here, too. A quick glance at the chart will quickly quiet any critics who argue Groupon has expanded its Chicago-based staff far too quickly. They may be hiring new salespeople, editors and writer by the thousands, but they're getting more out of each employee than they were at the beginning. In the end, though, those critics could be right. Based on numbers that have leaked over the Internet in previous Groupon stories, we can say with some confidence that the company added about 2,600 employees, or about 36 percent of its total staff, in the first quarter of 2011 alone; the growth has been exponential, rather than linear. Can the same be said about both the number of subscribers and Groupons sold? We'll have to wait until more data is made available.
MORE ABOUT GROUPON'S IPO:
Image: Getty Images.