Google Backs Solar Company That Leases Panels With $280 Million
Google makes a huge investment in distributed solar energy deployment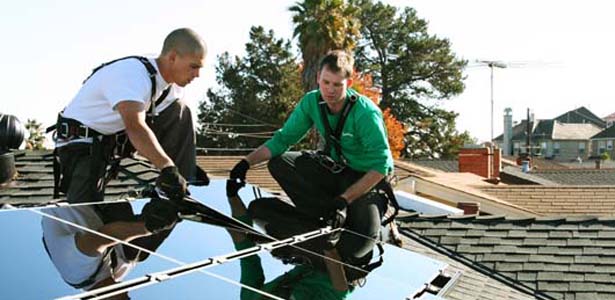 Google will put $280 million into SolarCity, a company that leases solar photovoltaic systems to homeowners. $280 million! Man, that's like the amount of money you'd have to pay for a middling social networking website. SolarCity is important to the future of green energy because they enable people to go solar without spending a bunch of money up-front.
The news is a big deal, as Todd Woody reports at Forbes, because it's both Google's first investment in distributed renewable energy and its largest investment in anything to date.
"We've made several investments in centralized large-scale renewable energy projects so the thing that was particularly attractive to us was that this was large-scale deployment of distributed generation," Rick Needham, Google's director of green business operations, told Woody. "By providing more capital into this innovative business market and by being one of first corporates to do this, we hope others will follow."
The money will go into "tax equity fund" that SolarCity can tap into to finance the upfront costs of putting panels on roofs. The homeowner gets solar panels for X dollars per month (say, $120). SolarCity gets a customer. And Google gets a 30 percent federal tax investment credit.
SolarCity, like its competitors SunRun and Sungevity Companies, raises these funds from banks and utilities, but corporations that need to essentially borrow some tax breaks haven't really gotten into the game so far. Google hopes its investment may lead the way for other companies to do the same.
Image: SolarCity.