Gmail's Chat Roster Reminds You to Call Dad This Father's Day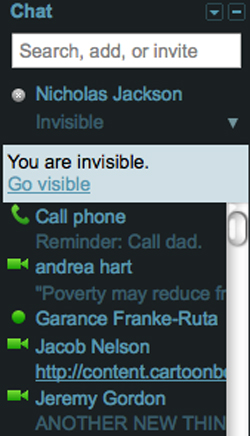 Gmail is primarily an email service, but executives responsible for running the program don't want you to forget how easy it is to call someone while logged in. One way they're promoting this feature is by including a simple message on your chat roster today. "Reminder: Call dad," it reads. (You can see a screenshot from my personal Gmail to the right.)
While a simple email might do, why not make things a little more personal today and give your dad a ring? If you and your father are both within the country, it won't even cost you a cent.

"If you're in the U.S., you can use Gmail to make free domestic calls and calls to Canada," according to a post this morning on the Official Google Blog from Gmail product marketing manager Michael Bolognino. "If your dad lives abroad, we have some of the best rates around, like two cents per minute to Australia, Argentina, France and many other parts of the world (unfortunately, those of you outside the U.S. will have to phone Dad the old-fashioned way)."
Gmail Calling was launched last August as a quick and easy way to place calls from within your browser. It works just like a regular phone: Click on the telephone icon displayed at the top of your roster and, from the pop-up window, either enter the name of one of your contacts or input a number.

Image: Gmail.