Facebook Loses Kevin Colleran, the Site's Most Tenured Employee
After six years at the company, Colleran is ready to take some time off before pursuing investing and public speaking engagements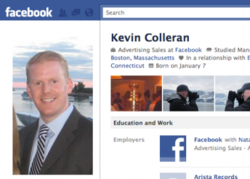 College kids love Matthew McConaughey. The often-shirtless actor has been a huge hit in everything from
Contact
to
The Lincoln Lawyer
. And nobody knows that better than Kevin Colleran, the first member of Facebook's advertising team and the social network's longest-serving employee other than Mark Zuckerberg, who is known for tying McConaughey to an early promotion for the site involving Crest White Strips.
Colleran, who just announced that he will be leaving the site early next month to take some time off before pursuing some "angel investing as well as potentially some consulting, public speaking and non-profit work," has been with Facebook for more than six and a half years. And all without getting into any big fights with Zuckerberg over the direction of the network -- or at least any fights big enough to make waves outside of the office.
"My journey at Facebook has been incredible and I am very grateful for Mark, Sheryl [Sandberg], and the rest of the team for giving me such an amazing opportunity," Colleran said in an email obtained by All Things D. "I take a lot of pride in having been Facebook's most tenured employee (after Mark) as well as the first member of Facebook's advertising team."
During his successful time with the company -- in his book, The Facebook Effect, David Kirkpatrick described him as "a gung-ho cold caller who could get in almost any door" -- Colleran organized the McConaughey promotion, but also put together Facebook's first big ad deal. A user-acquisition agreement with Party Poker, that deal was eventually dropped because of online gambling regulations, but was scheduled to bring in $60,000 every month.
Colleran's exit shouldn't shift operations on Facebook's ad sales team, which is led by Carolyn Everson, much. His title remains global sales lead, which seems to be more of an honorary position than a practical one.

Image: Facebook.