Club Penguin Downtime Is Only Disney's Latest Internet Misstep
Despite warnings, the Walt Disney Company managed to let the domain name for a website with 12 million users expire this morning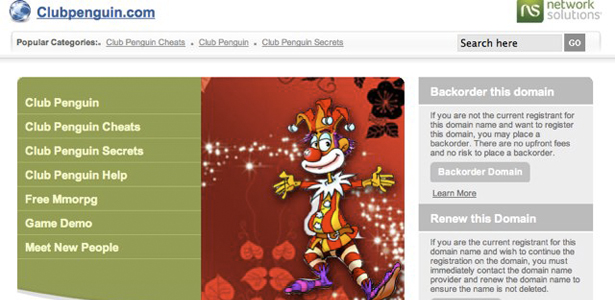 In August 2007, the Walt Disney Company shelled out up to $700 million ($350 in cash and up to another $350 million in bonuses for targets set two years out) for Club Penguin, the massive multiplayer online role-playing game for kids ages 6 to 14. Founded only two years earlier, Club Penguin met a demand nobody knew existed before its creation and quickly grew from only a few thousand accounts to about 12 million by the time Disney decided to buy. It was generating $40 million in annual revenue.
But Disney still managed to forget about it. This morning, any Club Penguin members who tried to visit the site (many of them, by the way, paying a monthly subscription fee) were met with the page displayed above. You might recognize it: It's similar to any of the walls erected when companies allow their domain names to expire.
Renewing your domain name is a simple process. Despite warnings, though, Disney still managed to forget. It's a really dumb mistake on Disney's part, and the executive responsible is probably sitting in Bob Iger's office, getting a stern talking to as I write this. Forgetting to renew your domain name is like forgetting to pay your credit card bill on time, despite having more than enough money in your checking account, and being penalized an absurd about of money. Except worse, because your credit card probably doesn't kick back $40 million in rewards every year. Rumors quickly spread that Club Penguin had been hacked, or was in the process of being shut down for good or that it was going to be rebuilt from scratch. How many members were lost before the role-playing site was restored this afternoon?
We shouldn't be that surprised by this, though. Disney, despite being the world's largest media conglomerate, has never been able to get its paws around the Internet. This is a problem that dates all the way back to the contentious Michael Eisner era, when the famously megalomaniacal CEO and chairman refused to invest in Internet ventures. Eisner was "initially technophobic, slow to embrace new advances and impatient when they failed to work as promised," according to James Stewart's expose of his 20-year reign, DisneyWar.
Many of those around Eisner suggested buying a minority interest in Yahoo! or another burgeoning Internet portal, which would have been a smart move at the time. (If they sold their share off before the coming bust.) Tom Staggs, now the chairman of Disney's parks and resorts division, even negotiated a deal with Yahoo! that would have given Disney a 10 to 15 percent stake for $180 million, far less than Club Penguin would eventually cost the company. At Yahoo!'s peak in 2000, 15 percent of the company's market cap would have been about $21 billion. Instead of making the deal, Eisner insisted that Disney build its own portal from within. Go.com, an expensive failure for the company, is still up and running. I wish they would let the domain name expire on that.
Image: ClubPenguin.com.