11 Detained After Unlocked Facebook Party Invite Goes Viral
16-year-old Thessa in Hamburg-Bramfeld, Germany, wasn't even home to celebrate when 1,500 strangers made their way to her home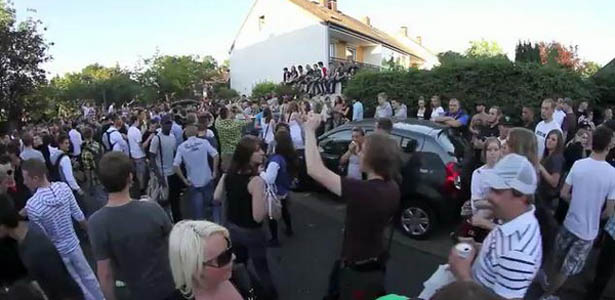 Next time you're creating a Facebook event to inform a select group of your friends about an upcoming party, make sure that you check the privacy settings before posting.
We've seen why this is important before, but perhaps not on the same scale. More than 1,500 people showed up for the birthday party of a teenage girl in Hamburg-Bramfeld, Germany, this weekend. The girl fled the premises and it took more than 100 police officers to control the crowd.
"Eleven people were temporarily detained, one police officer was injured, dozens of girls wearing flip-flops cut their feet on broken glass and firefighters had to extinguish two small fires at the 16th birthday party in Hamburg," the Associated Press reported after speaking to police spokesman Mirko Streiber on Sunday.
Things could have been much worse. The invitation had spread quickly online with more than 15,000 people confirming that they would show up, according to Bild am Sonntag, a weekly paper out of the region. But the girl, identified only as Thessa in reports, quickly realized her mistake and canceled the party. Public announcements were made that the event would not happen and Thessa's parents hired a security service and informed police.
And despite the injuries, which can be expected at any large gathering, police say the event was mostly peaceful. Strangers held up signs that read "Where is Thessa?" Others brought homemade cakes and birthday presents. And the group of revelers kept chanting "Thessa, celebrating a birthday is not a crime," the AP reported.

"We had cordoned off the house, some 100 police were on the ground, four of them on horses -- but that did not keep the kids from celebrating," Streiber told the AP. "[T]he party was a hit."

Image: YouTube.