With Orkut's Network Breached, Facebook Nears 700 Million Users
Facebook is closing in on 700 million users, according to Socialbakers, a website dedicated to tracking statistics about Facebook's pages, applications, advertising and more. Business Insider, looking at the same numbers, calls this an "absolutely jaw-dropping milestone," but I don't know that it's any more awe-inspiring than 600 million or the 500 million that Facebook's public-facing statistics page claims. (It's unclear when this page was last updated.)
What is amazing is where Facebook's new members are based. The social network has tapped the United States and is focusing most of its efforts on growing overseas. A lot of Facebook's growth over the past month has been in Brazil and India, two huge countries where Orkut, another social network, dominates. Orkut has more than 100 million active users, but nearly half of those are in Brazil, with another 40 percent in India. Only about two percent of the service's users are based in the United States, which is why you may not have heard about it. What you have heard about, though, is Orkut's parent company, Google, which should see Facebook's move into its territory as a direct challenge.
Many of the comments on the Socialbakers post releasing Facebook's numbers for May are early death knells for Orkut. "[L]et's go Brazil :D bye bye Orkut hahahaha," one reads. Another: "Orkut has just died in the world...." Orkut isn't dead yet. But momentum is important and if Facebook's growth trends continue into the months ahead, we could see the social network expand faster than it ever has. Over the years, Orkut has proven tough to crack, but there are a lot of reasons why one would want to be a part of the biggest social network possible, not the least of which is that the experience becomes more fulfilling. With some of Orkut's users migrating to Facebook, what is now just a slow trickle could soon turn into a geyser. That's 100 million potential new users for Facebook. And once those people have been converted, there's another 1.3 billion in India and Brazil combined.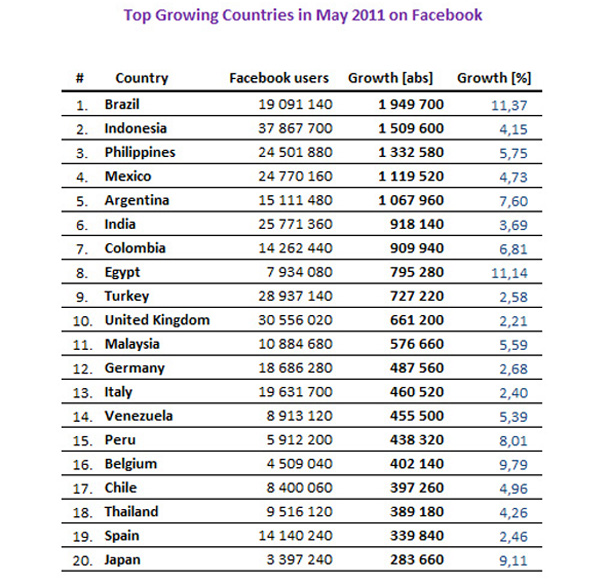 Chart: Socialbakers.