What's Different About Apple's New iMac Computers?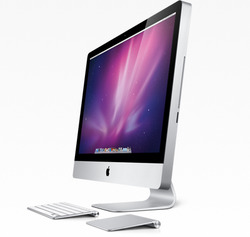 The Apple Store was down this morning for a couple of hours. Many accurately predicted that the company was getting ready to release an updated line of iMacs, which are now available. What's different about them? What makes them so special? Well, the new computers run on either quad-core Intel Core i7 or Core i5 processors, a feature that Apple is playing up in its press release marking the update. And they also come with high-speed Thunderbolt I/O technology and new FaceTime HD cameras.
The upgraded iMacs start at $1,199, but Apple promises that they run up to 70 percent faster with three times the graphics performance of previous models -- worth the price. For $1,199, you get a 21.5-inch screen equipped with a 2.5 gHz Intel Core i5 processor, AMD Radeon HD 6750M graphics and 500 GB hard drive. The best standard model is a 27-incher with a 3.1 gHz i5, AMD Radeon HD 6970M and a 1 TB hard drive. It's price: $1,999. If you want, you can spend more to add custom features like a larger hard drive, faster processor or solid state memory.
Here's a round-up of the changes:
I5 or I7 QUAD-CORE PROCESSORS: "These next generation processors feature an integrated memory controller for an amazingly responsive experience and a powerful new media engine for high-performance video encoding and decoding," according to the press release. "With new AMD Radeon HD graphics processors, the new iMac has the most powerful graphics ever in an all-in-one desktop."
THUNDERBOLT I/O TECHNOLOGY: "The new Thunderbolt I/O technology can transfer data in two directions at 10 gigabits per second each way," according to VentureBeat. "It is compatible with existing FireWire and universal serial bus (USB) devices which transfer data at slower speeds." The smaller iMac (21.5-inch) has a single Thunderbolt port running at speeds 20 times faster than traditional USB ports and the larger iMacs come with two.
FACETIME HD CAMERAS: The new FaceTime camera is high-definition. Of course, you can only hold HD conversations with other HD-enabled Macs. Still, it supports standard resolution calls with the iPhone 4, current iPod touch models, the iPad 2 and other Intel-based Apple products.
Image: Apple.