What Connects the Iconic Bin Laden and Situation Room Photos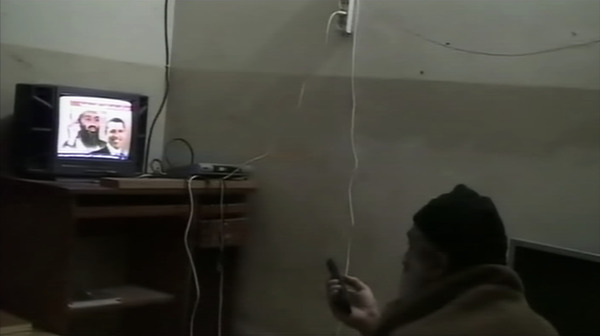 The government released a series of homemade videos of Osama bin Laden today. Already, Reuters and many other news outlets have picked out the image that will circulate around the world. It shows bin Laden watching himself on a small, old television inside his ratty compound. The video capture will take its place beside the other iconic image from the killing of Osama bin Laden: the White House staff in the situation room watching a screen that updated them on the raid.
The two images we may remember most from this episode do not show blood or battle. They don't show action at all. Instead, leaders are seen staring at screens that display their own actions playing out in the world. In a war waged via drones and video tapes and recorded by helmet cams, this seems unintentionally fitting.
Update, 6:35 p.m.: My Twitter colleagues, Steve Silberman and Tim Carmody, made two other smart comments on the images. Steve observed that the people in the Situation Room photo would have gotten a look into the selfsame space in which we see bin Laden looking at himself. "In a very different parallel universe, it's a Skype connection," he wrote. Tim pointed out that there is a "key difference" between the photos: "One screen is off-screen. One screen cannot be seen." We only get to know what bin Laden is watching.