Was the Apollo Project an 'Aberration' for America?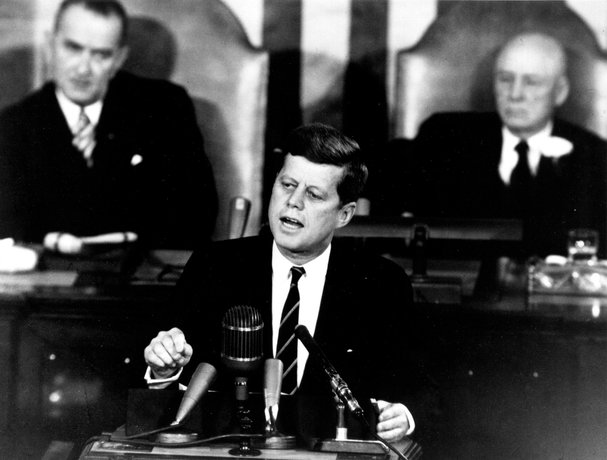 It was about 50 years ago -- May 25, 1961 -- that President John F. Kennedy asked Congress to commit to putting a man on the moon, launching the ambitious NASA effort known as Apollo. The conventional story about Apollo is triumphalist in the extreme. Apollo showed both our system's superiority to Soviet communism and was a great technoscientific success. Indeed, it is the very memory of Apollo's telegenic success that causes American politicians to invoke the rhetoric of Apollo anytime an engineering obstacle crosses their paths.
But, as underscored by a new essay in this week's Economist, the reality was always less glamorous than advertised. At a cost of $150 billion in 2010 dollars, the Apollo program didn't even finish out its scheduled flights. It was canceled a mere three years after the triumph of Neil Armstrong's first steps. Apollos 18, 19, and 20 never flew. Since then, the US space program has continued to send astronauts into low-earth orbit, but nothing has captured the imagination or budgetary slice of the moon shot. Even as it was happening, some scientists complained that too much of the nation's scientific ammunition was being fired into the air.
So, I find myself agreeing with the Economist in calling Apollo "a glorious one-off" that holds fewer lessons for the future that we want it to. They conclude:
If we can send a man to the moon, people ask, why can't we [fill in the blank]? Lyndon Johnson tried to build a "great society", but America is better at aeronautical engineering than social engineering. Mr Obama, pointing to competition from China, invokes a new "Sputnik moment" to justify bigger public investment in technology and infrastructure. It should not be a surprise that his appeals have gone unheeded. Putting a man on the moon was a brilliant achievement. But in some ways it was peculiarly un-American--almost, you might say, an aberration born out of the unique circumstances of the cold war. It is a reason to look back with pride, but not a pointer to the future.