Tumblr Launches Customizable Share Button for Web Publishers
The micro-blogging platform sets itself apart from Facebook and Twitter by allowing developers to set advanced presentation options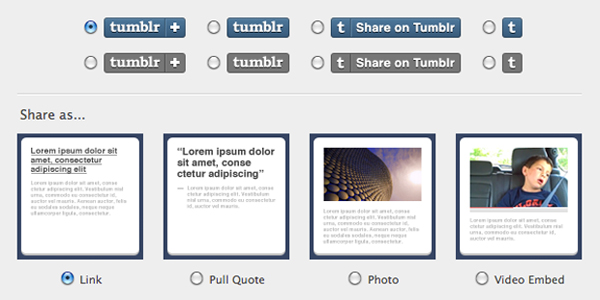 Joining Facebook (click on that little Like button you see at the top of this post!), Twitter and other services that offer share buttons, Tumblr's development wizards have put together a simple snippet of code that can be easily copied and pasted on any piece of content you want to promote through the micro-blogging service. The Tumblr Button will allow publishers, many of which have already embraced the platform, to interact more closely with the Tumblr community and push their work out through a new channel.
Most -- personal blogs, smaller websites, etc. -- will probably use the code as presented if they use any code at all, which defaults to a link back to a specific article of web page. But Tumblr points out on its staff blog that the "advanced options are where it gets interesting...." And this is how Tumblr is differentiating itself from the pack.
The options open to Tumblr Button adopters allow webmasters to attach code that dictates how their content is presented. "The Tumblr button can give you complete control over how your content appears when shared on Tumblr," the blog explains. "Not only does this mean specifying an excerpt or summary, but also deciding whether it appears as a Link, Quote, Photo, or Video Embed."
Mashable's Christina Warren dug a little deeper into the documentation that Tumblr has released to support its newest feature. (The documents are unaccessible at the time of this writing because Tumblr's servers are over capacity.) "The button can be customized to share a link to an article with a pre-filled description, a specific pull quote (complete with attribution) and even specific paragraphs from an article page," according to Warren. "Images and video embeds can also be customized to work as Image and Video post types within Tumblr. The buttons can even be configured to work in PHP, Ruby or JavaScript."
Image: Tumblr.