This Game Could Save Your Life
In the wake of the earthquakes in New Zealand and Japan, a group of Seattle-based developers are applying the principles of video games to disaster preparedness education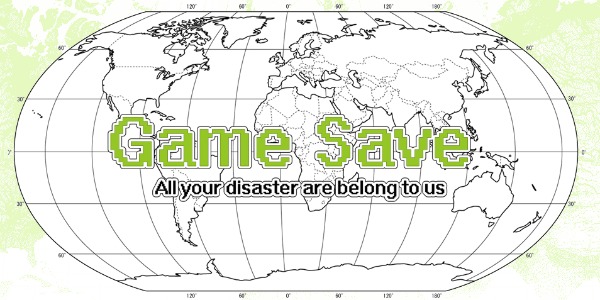 Put down that copy of Portal 2, unplug your Xbox: this video game could save your life.
That's the logic behind GameSave, a month-long, open source hack-a-thon during which teams of game developers and emergency relief professionals compete against each other to create a complete game concept and working demo aimed at an aspect of disaster relief. Sponsered by Geeks Without Bounds, a "not-for-profit alliance of hackers, coders and geeks united by the common goal of assisting communities in distress," and gaming website Gameranx and inspired by this year's Pacific earthquakes in New Zealand and Japan, GameSave will hit Seattle in late June.
The concept behind GameSave is to place the valuable elements of video games into an educational context; namely, to use a gaming environment to teach people what to do in the event of a sudden natural disaster. "Can games be art? Can games be educational? Are they merely escapist? Regardless of the manner in which these matters are debated, and the examples cited, it really comes down to one answer to all of these questions: It depends on the game," states GameSave's official website. "Good is relative. Sometimes, it's 'good' if games can be used to teach maths to a child who is struggling at school. Sometimes it's 'good' if games can merely provide a bit of distraction for an overworked assistant."
The idea for a disaster-themed educational game grew out of a lengthy conversation about Jane McGonical, world-renowned game designed and New York Times bestselling author, between two women: Annie Dennisdóttir Wright, a lead editor at Gameranx, and Willow Brugh, who works at Geeks Without Bounds. "We were intrigued by the idea of games being used for good, and practical, sustainable applications," Wright says. "Most recently, [McGonical] has talked quite extensively about the research that's being done with games as potential means of therapy or education or, basically, just the idea that they're not all mindless entertainment. Not that there's anything wrong with mindless entertainment, of course -- sometimes we need to just blow up a zombie -- but specifically that there's an untapped potential there, a learning mechanism that is more effective than a traditional classroom setting."
The earthquakes in New Zealand and Japan were a substantive starting point for Wright and Brugh. "After learning a bit more about the Pacific Ring of Fire, we started to hear things on our local news here in Seattle that our region ... [could] be next.... Apparently, our region can potentially suffer up to a 9.2 quake, so, you know, that's comforting."
Initially, Wright and Brugh conceived of a single development team building a user-friendly disaster preparedness program. GameSave evolved out of a fairly simple and recognizable concept: competition is good. A competitive environment for programmers "will make the entire thing a much more robust pool of gray matter from which to find a solution," Wright says. "And it's also a better application of the underlying principle -- the event itself is a game me: instead of getting a single team you pit other teams against each other to see who can come up with the best program."
Participating in GameSave is easy. A team can be composed of individuals who organize themselves through a registration site if they don't come as an organized unit. Teams can also be sponsored by their respective employers. Ideally, Wright and Brugh plan on bringing every team to Seattle for an intensive session with emergency management personnel prior to the official launch on June 10th. But participants don't even have to be present to compete: GameSave will stream the event, and if the sponsorship is there, Wright and Brugh plan on flying developers in to Seattle for a several weeks of building. GameSave currently has two full teams of developers ready to compete with several more in the wings.
Since its conception -- the result of "eight solid hours of butt-numbing brainstorming at our local Hackerspace, Jigsaw Renaissance with the whiteboard and a lot of coffee," says Wright -- GameSave has remained something of a small-scale operation. "We started thinking about what kind of resources we already had --  who we knew, which developer friends of ours might not be horrifically busy this summer, etc.," says Brugh. "But so far, we've got a lot of folks who seem to be willing to put in the overtime for it, and we're really grateful for that."
If GameSave proves a successful marriage of emergency education development and classic hack-a-thon, this type of competitive innovation could become a model for future programs. Through her work with Random Hacks of Kindness, a cooperative disaster management and crisis responses initiative, Brugh plans on introducing GameSave to her contacts at large tech companies. The project has even attracted attention and praise from Tom Kalil, deputy director for policy at the White House Office of Science and Technology Policy.
"We've had a lot of encouragement, including from the White House and gaming companies across the country. If we're successful with sponsorship, we want to start up an international leg here in a bit," Brugh says. "We know [Kalil] from Jigsaw Renaissance's educational programs, I followed up with him about some of the stuff Jigsaw's been up to, he wants an update after we're a bit more established."
Despite the gradual development of GameSave, Brugh and Wright want to see a working demo of a disaster relief game up and running by mid-July.
"We know something this complicated can't be built in a few weeks," Brugh says. "I can say what I want the end product to do and Annie can say what it might look like at a basic level, but even the research to build the demos will consolidate a lot of disparate information that volunteers spend hours gathering when people are, you know, dying. If it's playable, it means players have a better understanding of process and surroundings and awareness of needs and a time frame, etc. If it's interactive with live data, it actually helps first responders, and people know they're doing something to help and, ideally, if it's developed enough ... you can train emergency management people and first responders who are actually on the ground."
Image: GameSave.