The Tumblr Everyone's Talking About: 'Literally Unbelievable'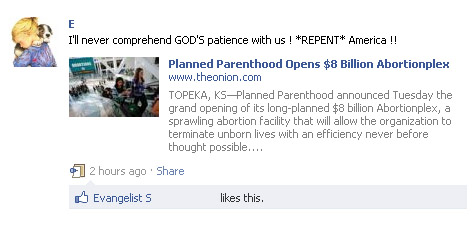 There's a new Tumblr called Literally Unbelievable that bills itself as "Stories from The Onion as interpreted by Facebook users." The site is tearing its way across Twitter and most people think it's pretty funny. In the way that Internet users do, many people are calling it the best Tumblr ever, etc, etc.
But at least one user, tech writer and PhD candidate Navneet Alang, points out the somewhat nasty undercurrent powering the site. "This 'Literally Unbelievable' Tumblr irks me no end," Alang wrote. "Elitism masquerading as internet hipsterism."
 
I'm not sure how I feel about it. There is something hilarious about interpreting satire as reality, but this site really is about making fun of the rubes, defined in this case as gullible and shockingly un-media savvy right wingers. It's sort of The People of Walmart for the news, except the gag is: "Look how dumb!" instead of "Look how fat/low-class!"
John Overholt responded to this post with a good point: "I feel like there's an entirely defensible difference between mocking ignorance and poverty," he said to me. "Ignorance *is* contemptible."