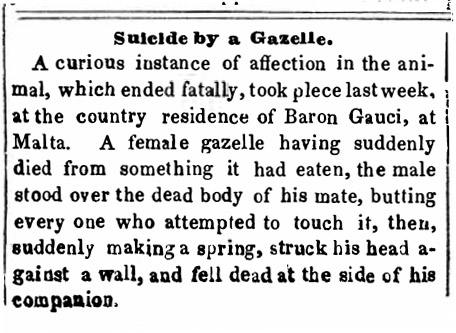 Scientific American has a wonderful little tale from 1847 up on its Anecdotes from the Archives blog about a seemingly romantic gazelle at the residence of Baron Gauci in Malta. Everything about this story is awesome:
A curious instance of affection in the animal, which ended fatally, took place last week at the country residence of Baron Gauci, at Malta. A female gazelle having suddenly died from something it had eaten, the male stood over the dead body of his mate, butting every one who attempted to touch it, then, suddenly, a spring, struck his head against a wall,a nd fell dead at the side of his companion.

Now, SciAm -- being all sciencey -- has to ruin the romance of the story and tell you that gazelles are rarely monogamous and the male probably just died from whatever killed the female. But, whatever.
A more general point about archives: these types of stories are not why people digitize the archives of their publications. There are bigger fish to fry most of the time, like helping to tell the story of electricity's promotion, say for Scientific American, or the rhetoric of abolition for The Atlantic. But when you scan everything, you happen to make Baron Gauci's favorite dinner party anecdote something the world can access along with weightier matters.
The past was strange and quirky and random just like our times, and when we focus only on the big stories with thick throughlines, we forget how much chop and noise there has always been. The main story for Maltese historians in the 1840s might have been contesting British imperial occupation, but somewhere, a gaggle of people saw a gazelle commit suicide over its lover and for a day or a week or a month, this was what dominated their minds: the spring, and the strike against the wall, and the death.