Should Belfast Be Proud of the Titanic?
The Titanic remains an icon of the vanished glories of Belfast shipbuilding at its peak, but centennial celebrations of the doomed ship ignore its technological failings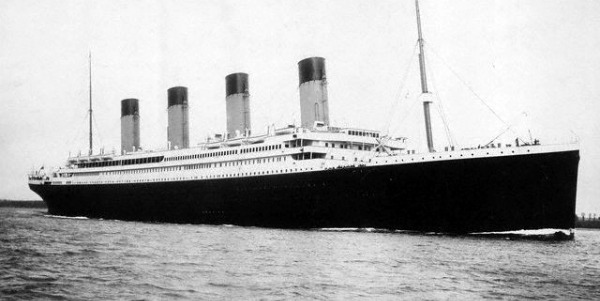 "Here's a ship that took three years to build and two-and-a-half hours to sink. Yet 100 years later people are celebrating it. It's jaw dropping." So says Prof. Jonathan Tonge of Liverpool University in this BBC News feature on the nostalgic beginnings of the centennial, including a housing development named for the doomed ship. The Titanic remains a (largely Protestant) icon of the vanished glories of Belfast shipbuilding at its peak. According to another local academic:
Prof [Ian] Kennedy remembers how he first heard about the Titanic at school in County Tipperary, in the Republic of Ireland, during the early 1960s.

"The schoolmaster gave us the shipping number of the Titanic and said if you look at in the mirror it says 'No Pope'. And I remember it really did look like that."
But never mind who built the ship. What sank it? Another BBC page challenges some common notions. The Titanic wasn't so high-tech, or even as luxurious in its first class public rooms as the White Star Line's 1899 Oceanic. And profit through size, not matching the speed of the Lusitania or Mauretania, was the point:
Even if all boilers had been lit, her maximum speed was 21 knots, a far cry from the 26 knots the Cunarders regularly recorded. Titanic did not attempt a full speed crossing because of the risk of potential engine damage, and her passengers would have been inconvenienced by arriving a day before their hotel or train bookings.
The Titanic's stern,
with its high graceful counter and long thin rudder, was an exact copy of an 18th-century sailing ship, wrought in steel, a perfect example of the lack of technical development. Compared with the rudder design of the Cunarders, Titanic's was a fraction of the size. No account was made for advances in scale and little thought was given to how a ship, 852 feet in length, might turn in an emergency or avoid collision with an iceberg. This was Titanic's Achilles heel.
What doomed the ship, if the page's judgment is right, wasn't technological innovation but conservatism, ignoring the safety challenges of scaling up a design. One of the best defenses of the idea of progress is that engineers of wide-body jets over a half century later did not repeat this mistake.
Image: Wikimedia Commons.