Reading the World's Press, From Luxembourg to Djibouti
Newspaper Map combines Google Maps and Google Translate to instantaneously decode front pages from around the globe
Newspaper Map combines Google Maps and Google Translate to instantaneously decode front pages from around the globe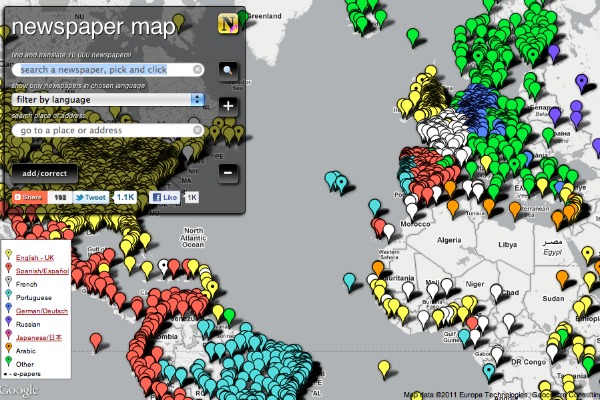 Suppose you want to know what's driving the news cycle in Luxembourg. Or how about the latest political gossip in Djibouti? Instead of spending your day wading through the Newseum's Today's Front Pages, follow your instincts: just Google it.
That's the logic behind Newspaper Map, the intuitive new mash-up of Google's perennially popular Google Maps and the search giant's reliable Translate function. The service allows you to skim through nearly 10,000 newspapers, from the New York Times to Sermitsiaq, Greenland's sole newspaper, filtering results by language or location.
The immediate usefulness of Newspaper Map is readily apparent. If you're looking for an immediate glimpse at the media landscape outside their current news ecosystem -- for instance, in Heather Horn's excellent feature "Home News From Afar" at The Atlantic Wire -- or simply an expat searching for the familiarity of local news in a sea of broad international coverage, the service bundles the world's papers into a format that streamlines the process of search and translation. While the extra step doesn't seem like much, the process of search-copy-paste-translate-rinse-repeat can often seem awkward and cumbersome, especially to the voracious media consumer. Newspaper Maps condenses the process into a few easy clicks while greatly expanding the scope of existing projects like the Newseum's daily scrape of international papers.
Even more intriguing is the potential for newspaper maps for geographical and linguistic research. The color-coding of publications based on language points to some interesting trends: English-language newspapers seem to be the most varied worldwide, while the massive groupings of Portuguese newspapers in Brazil and Japanese newspapers appear to be the densest clusters. Countries like Libya and Algeria are notably lacking in newspaper density. Newspaper Map may be immediately appealing for journalists and news consumers, but the potential applications for academic research may be the real story in the coming months.
Image: Newspaper Map.