Planking: The Latest Facebook Craze That Just Might Kill You
A 20-year-old Australian man fell to his death from a seven-story balcony over the weekend while trying to act like a plank of wood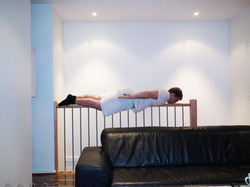 A 20-year-old Australian man fell to his death from a seven-story balcony this weekend while getting his picture taken. The fall prompted the Australian prime minister to call for an end to "planking," an odd Internet craze that has organized around Facebook in which individuals pose for their picture by laying flat, with arms at their sides and feet outstretched, on various objects. The idea is to resemble a plank.
The Facebook page for "Planking" has nearly 140,000 followers at the time of this writing, though this weekend, according to the Guardian, it only had 116,000. But a little digging suggests that the practice has more participants than that: Some individual countries have their own pages, like "Planking Norway," "Planking Ireland" and "Planking Australia," which shows people performing the act on top of garbage cans, cabinets, moving escalator handrails and even on window ledges. Other planks have been performed on top of train tracks, fire hydrants, signs, clotheslines and motorcycles.
The "potential disaster increases as more and more risks are taken to get the ultimate photo," said a statement from the Queensland police, who are aware that plankers, as they're known, continue to try and one-up each other. "If you want to take a photo of yourself planking on a park bench two foot off the ground, there are no risks with that. But when you start doing it seven stories up or lying across a railway line, that's what we have a concern about. Is it worth life in a wheelchair to take a funny photo to impress somebody you don't know on the Internet?"
The authorities, apparently, were aware of the craze even before this weekend's accident. "It is what we've been fearing," deputy commissioner Ross Barnett told reporters, according to MSNBC. The penalty, if caught performing the act, range from steep fines to jail time in the most extreme cases. "Clearly, conduct that threatens public safety will not and should not be tolerated," a Victoria state police spokeswoman said.
Image: Planking Australia.