Picture of the Day: Technician Attempts to Fix Endeavour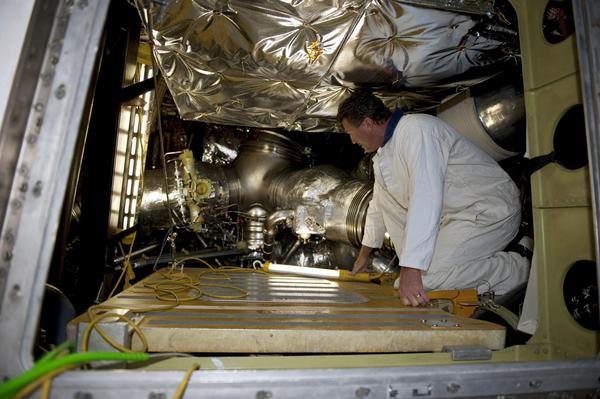 We know that the problem with Space Shuttle Endeavour is that the pair of heaters attached to one of the auxiliary power units (APU) isn't functioning properly. It's not, well, heating, which isn't good since temperatures in space will quickly freeze the APU, preventing it from being able to control the landing gear upon reentry.
The technicians are working to fix the issue so that the Shuttle can complete its last flight without a hitch, sending six astronauts led by Mark Kelly, husband to Congresswoman Gabrielle Gifford, deep into space. This photograph shows one of the technicians as he "makes his way across a platform in Space Shuttle Endeavour's aft section as work began to remove and replace the aft load control assembly-2," according to NASA. "Located in the orbiter's aft avionics bay 5, the assembly is believed to have caused heaters on a fuel line for Endeavour's auxiliary power unit-1 to fail April 29, 2011, during the first launch attempt for the STS-134 mission."
It's not yet clear when -- or even if -- the technicians will get the orbiter fixed in time to get this mission off of the ground.
View more Pictures of the Day.
Image: NASA.