Picture of the Day: NASA's Terra Shows Flooding in the Midwest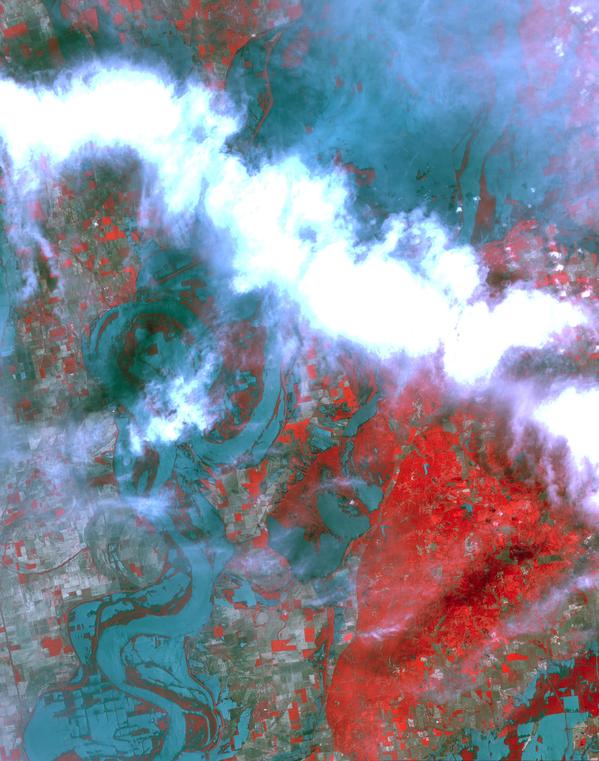 The same NASA tool that took yesterday's Picture of the Day, which showed tornado damage in Tuscaloosa, Alabama, is responsible for the one you see above of flooded farmland west of the Mississippi River. NASA's Advanced Thermal Emission and Reflection Radiometer (ASTER), an instrument mounted on the Terra spacecraft, created this false-color image on May 2, 2011. On the image, which shows a piece of land just south of where the U.S. Army Corps of Engineers used explosives to intentionally tear down a levee, vegetation is seen as red, water is blue and bare fields are displayed as gray.
"With its 14 spectral bands from the visible to the thermal infrared wavelength region and its high spatial resolution of about 50 to 300 feet, or about 15 to 90 meters, ASTER images Earth to map and monitor the changing surface of our planet," NASA explained. Built by Japan's Ministry of Economy, Trade and Industry, ASTER is part of a joint U.S./Japan effort to provide scientists with information used for the monitoring of temporal change and dynamic conditions.
View more Pictures of the Day.
Image: NASA.