Picture of the Day: NASA's Terra Documents Tornado Damage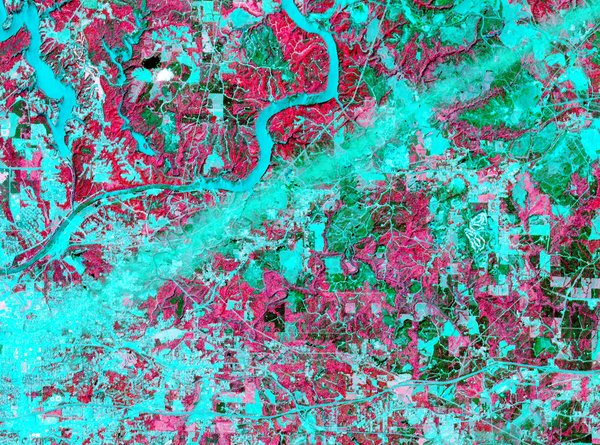 When tornadoes swept through Tuscaloosa, Alabama, as part of a severe storm system on April 27, NASA's Terra satellite, part of the Earth Observing Satellite (EOS) system, was flying high overhead where it could not be damaged. Instead, it watched -- and documented -- the devastation throughout the region.
These false-color images, a combination of infrared, green and red wavelengths, show the destruction. They were created on May 4, 2011, at about 11:45 a.m. local time by the Advanced Spaceborne Thermal Emission and Reflection Radiometer (ASTER), which is a key part of the Terra satellite. Here, water is blue, vegetation is red and building and other surfaces are blue-gray.
"The physical principle guiding the use of satellite data to detect tornado damage is based on the premise that the strong winds associated with a tornado will change the physical characteristics of the surface in such a way as to alter the visible and infrared energy reflected," NASA explained. "These characteristics could be a change in the orientation of surface features, such as the complete destruction of a house in a residential area, the snapping of trees in a forest region, the uprooting of crops in an agriculture area, or minimal damage to grassland in a pasture or field."
View more Pictures of the Day.
Image: NASA.