Osama Bin Laden's Compound Already Mapped on Google
Less than an hour ago, President Obama addressed the nation in a special press conference held to announce the death of Osama Bin Laden. The September 11 mastermind was hiding out in a mansion in Abbottabad, Pakistan, about 80 miles north of Islamabad.
Bin Laden's compound is just north, as you can see below, of a hospital for women and children and a cinema. About 800 feet to the west is the Cantt Police Station. There's little information available about the station online, but a Flickr photo taken in February 2007 shows it in rough condition. The station, at that time, was "included in the demolition list of the provincial government works department," the caption claims.
It's unclear who added the hideout to Google Maps or when, but it's already there -- and labeled as an "amusement park."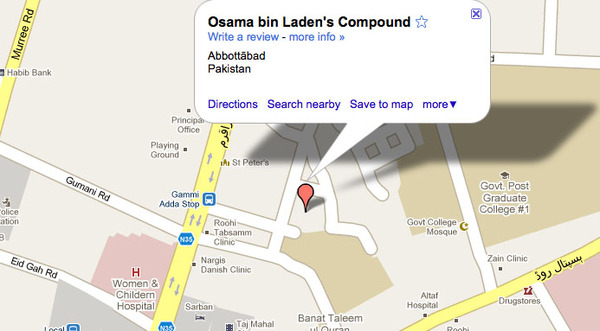 Another image with pins marking both the compound and the Cantt police station: